About IObit Uninstaller
Thanks for choosing IObit Uninstaller 8!
IObit Uninstaller 8 is a perfect uninstallation tool. It provides an easy and secure way to remove unnecessary programs, Windows apps, Universal Windows Platform (UWP) apps, malicious or Ad plugins, and thoroughly removes all leftovers, giving you a clean PC and a secure & smooth online surfing experience.
As the first uninstall utility that comes up with the idea of bundleware removal, IObit Uninstaller 8 monitors program installations in real time and provides an easy way to uninstall bundleware. New Bundleware category is added in IObit Uninstaller 8 navigation panel where lists all the bundled products so that you can uninstall all unwanted bundleware conveniently and quickly. Another wonderful new feature is Easy Uninstall which allows you to quickly uninstall a program from its opened window, desktop icon, or system tray icon.
There are also many improvements in IObit Uninstaller 8. The enhanced scan engine ensures quick and thorough cleanup of all leftovers, just like they've never existed on your PC. With the unique and enlarged database, IObit Uninstaller 8 makes it easy to uninstall stubborn programs that cannot be uninstalled in the normal way. Software Updater is also improved to easily keep more important programs always up to date. What's more, IObit Uninstaller 8 supports removing Windows apps under non-administrator accounts and the latest UWP apps on Window 10 to free up more storage space.
The following guide will help you get familiar with IObit Uninstaller 8 quickly.
System Requirements
• Windows XP/Vista/7/8/8.1/10
• 300 MB of free disk space
• 1024*768 screen resolution and above
Install IObit Uninstaller
1) Click here to download the latest IObit Uninstaller 8.
2) Double-click the downloaded iobituninstaller.exe to start installation.
Activate IObit Uninstaller
Note: A valid license code is required to activate the Pro version. You can click here to purchase a new one, or click here to renew your expired license code. If you forgot your license code, retrieve it here.
Click the Enter Code link at the bottom right of IObit Uninstaller main screen, enter your license code, and click Register Now to activate the Pro version. Or you can visit here for step-by-step activation instructions.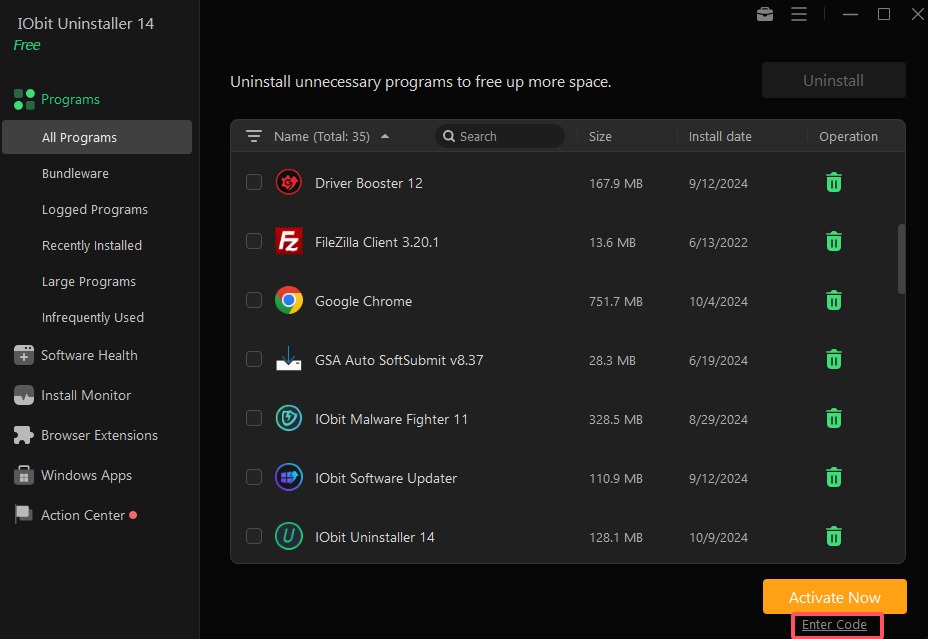 After upgrading to the Pro version, you can click the Manage License link at the bottom right of the screen to check the license status, refresh your license, or export your license.

Launch IObit Uninstaller
Besides the desktop shortcut, we provide another 3 entrances to launch IObit Uninstaller 8. Therefore, it's more convenient for you to uninstall any programs in any case.
1. Start > Control Panel > Programs > Program and Features > click Powerful Uninstall to open it. Please refer to: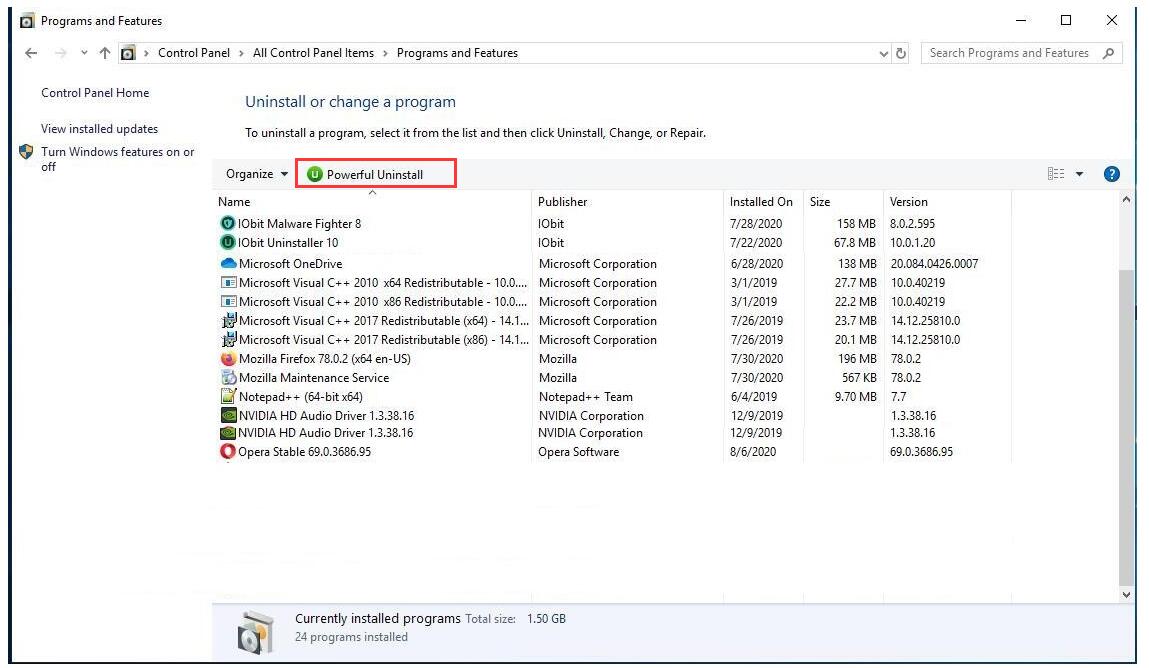 2. Right-click on the shortcut of the program you want to uninstall. Select Powerful Uninstall to launch the uninstall process for the program. Please refer to the picture below: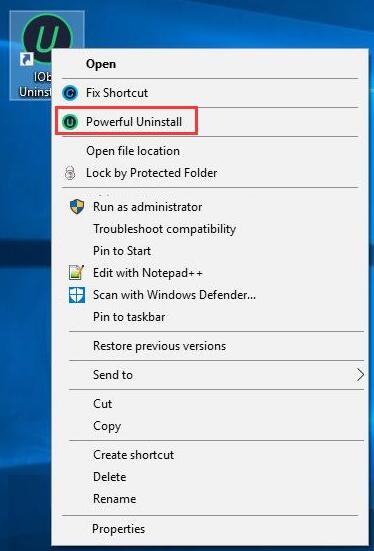 3. Drag the shortcut of the program you want to uninstall over IObit Uninstaller shortcut. Then IObit Uninstaller will start automatically.
Uninstall IObit Uninstaller
Windows 8 & earlier:
Open Start > Click Control Panel > Click Uninstall a program > Find IObit Uninstaller and click Uninstall > Follow the on-screen prompts
Windows 10:
Open Start > Click Settings > Click System or Apps on the Settings menu > Select Programs & features or Apps & features from the left panel > Find IObit Uninstaller and click Uninstall > Follow the on-screen prompts
Glance at Main Interface
The main window of IObit Uninstaller 8 displays five main features: Programs, Software Updater, Toolbars & Plug-ins, Windows Apps, and Action Center. Programs are shown by default when you open IObit Uninstaller 8.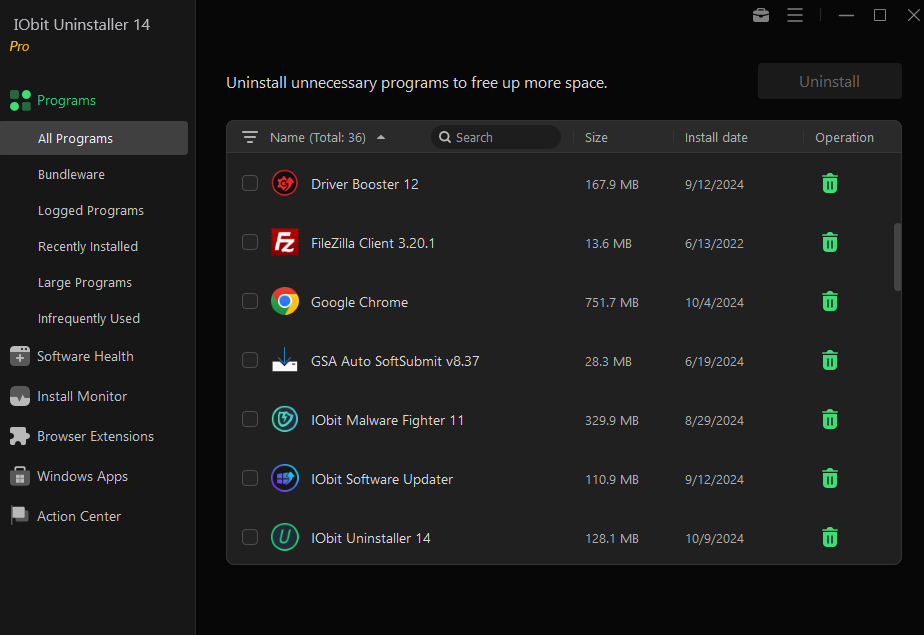 At the top right corner of IObit Uninstaller main screen, you can find icons for Tools and Options .

- Click this icon to get start with 6 powerful tools of IObit Uninstaller. We will introduce them in detail later.

- Click this icon to view the drop-down menu including Settings, Restore, Export program list, Feedback, Check for updates, Technical support, IObit online, Like, and About.

Uninstall Programs
- Instruction for Programs category
All Programs - List all programs installed on your computer.
Bundleware -List all bundleware installed on your computer.
Recently Installed - List the programs installed during the past 10 days.
Large Programs - List the programs with size larger than 100 MB.
Infrequently Used - List the programs that you haven't used for two months.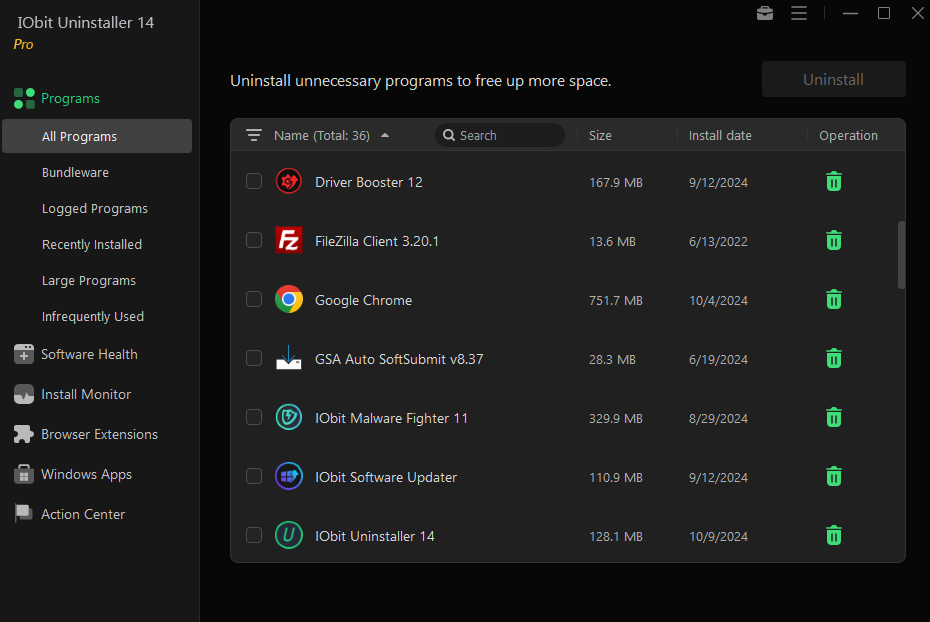 - You could type the key words of a program here to find it quickly.

- You can click the Name column to list all programs in alphabetical order.
Right-click a program to view and select the menu options: Uninstall, Refresh, Open file location, Open in Regedit, and Search Online.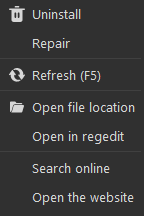 Click Details link to know more information about a program.

- Uninstall process
1. Select the unwanted program by ticking the checkbox before it. You can also select several programs to uninstall at the same time.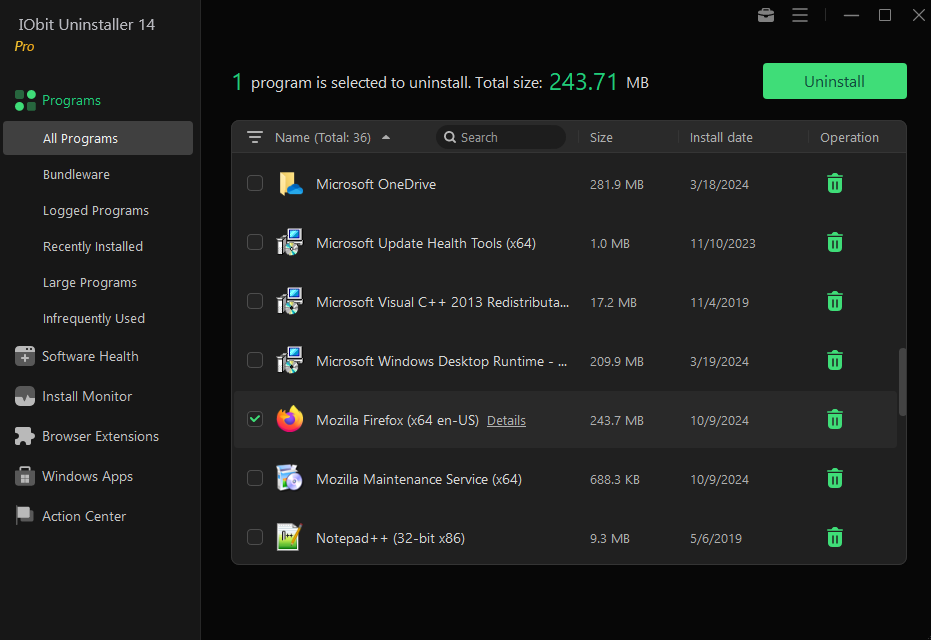 2. After selecting the unwanted program, you can click the trash icon or the Uninstall button to start the uninstall process. But before the uninstallation, two options are provided for you.
By checking the option Create a restore point before uninstall, IObit Uninstaller will create a restore point before uninstalling the program. Then you can restore your system to the good status if any unexpected thing happens. But this process will take some time.
By checking Automatically remove residual files, all residual files found will be removed automatically.
Choose the option you need and then click Uninstall to start uninstalling the selected program.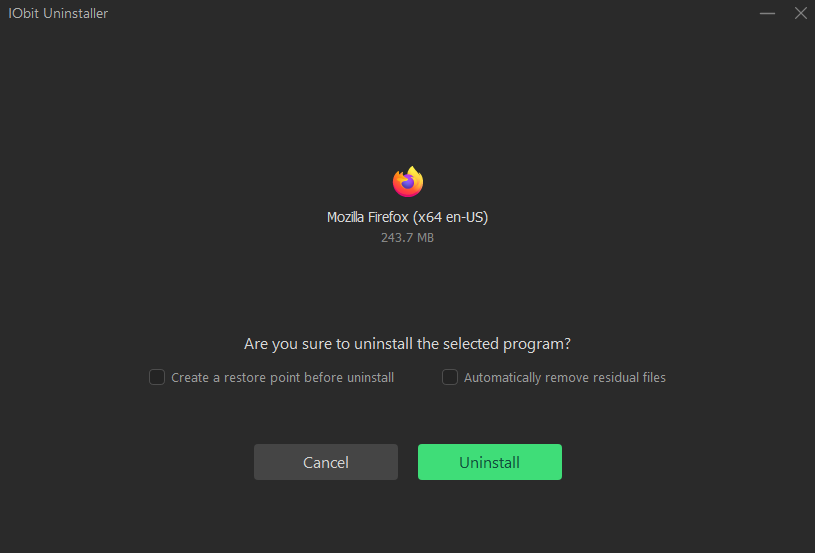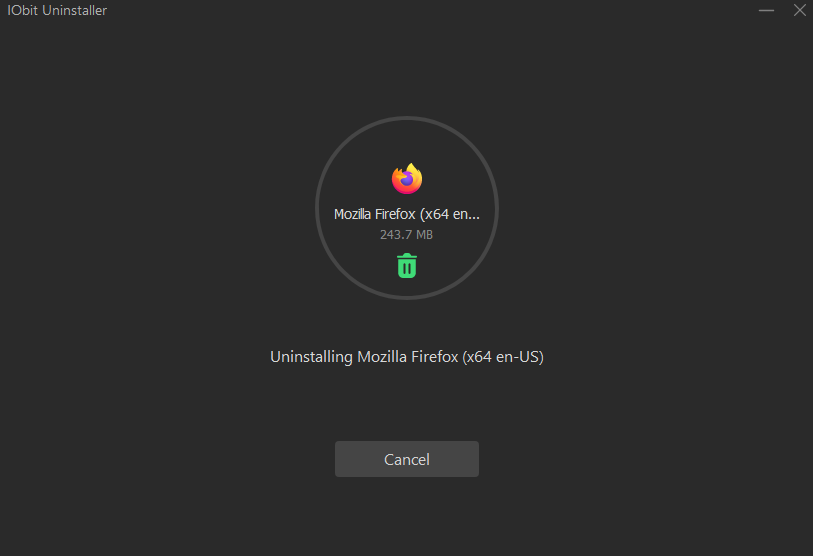 3. If you do not tick the option Automatically remove residual files, IObit Uninstall 8 will scan and list all program leftovers and registry entries after the built-in uninstallation. You can select the unwanted items for deletion.
By ticking Shred files, it will shred the leftovers when deleting them. Thus these files will be wiped out completely & permanently and cannot be recovered by any recovery tool.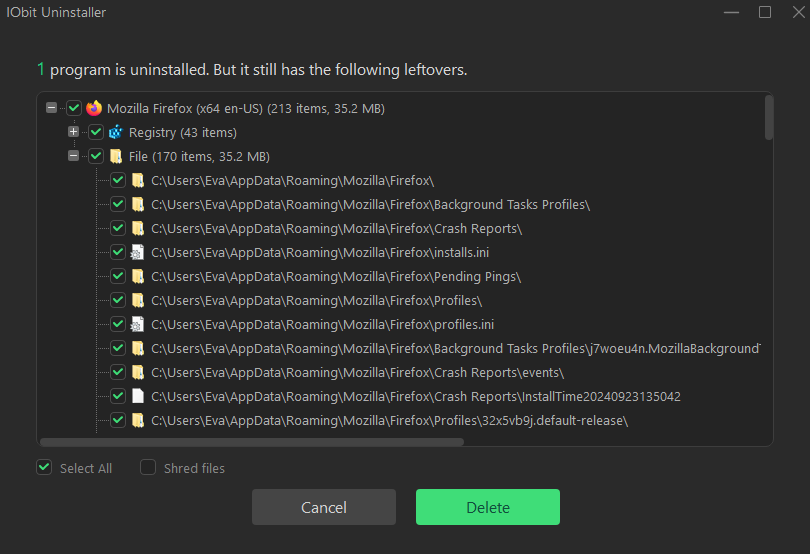 4. You have uninstalled a program successfully!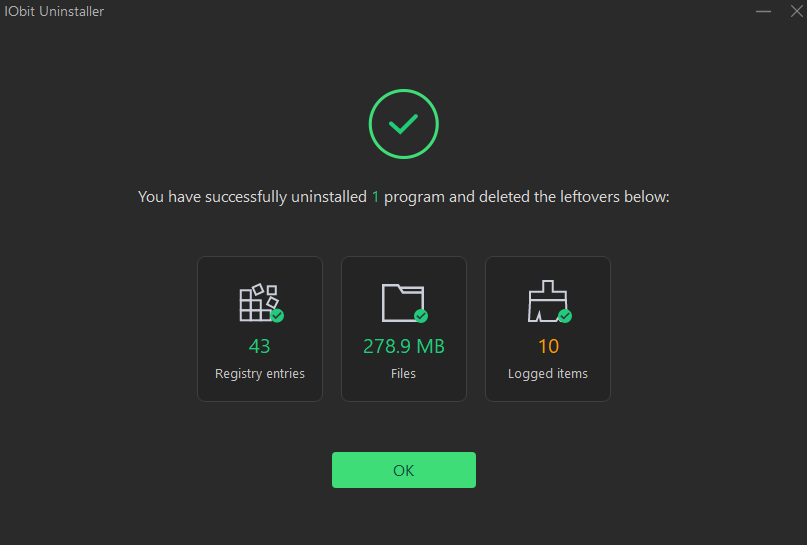 Bundleware Removal
When you install the main program, some other programs may also be installed without your notice. IObit Uninstaller 8 can monitor program installation in real time and notify you when the bundleware installed if you have the option Notify me when bundleware installed ticked in Settings. Click the View details button to check all the installed bundleware.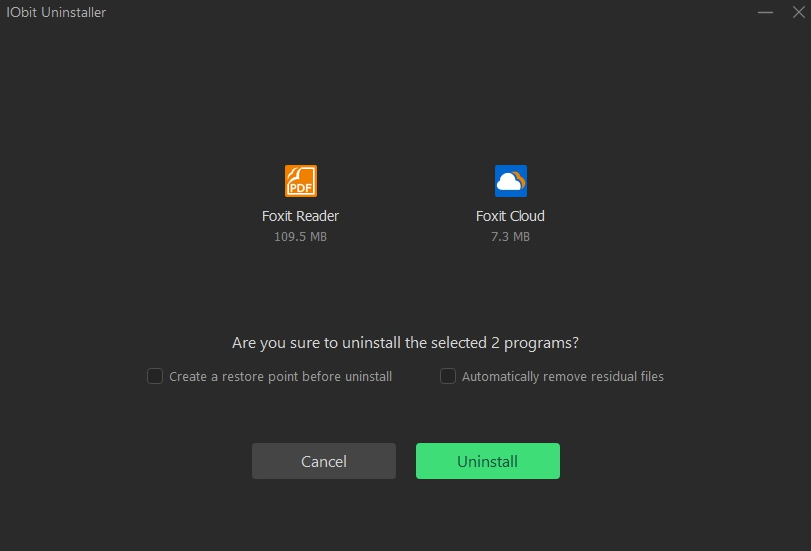 You can also manually launch IObit Uninstaller and click Bundleware on the left navigation panel to check all the installed bundleware, and uninstall the unwanted bundled program or plug-ins here easily and completely..
Note: This easy and convenient bundleware removal feature is only available for PRO users.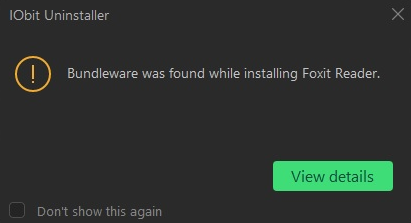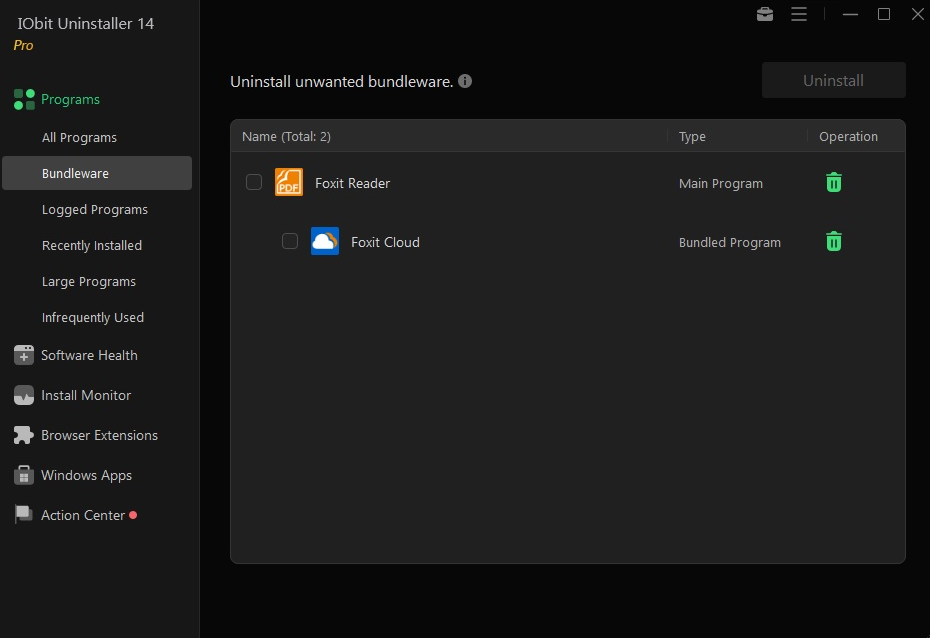 Stubborn Program Removal
For stubborn programs which cannot be uninstalled in the normal way, IObit Uninstaller 8 can uninstall them in an easy way with its unique and large database.
Note:This stubborn program removal feature is only available for PRO users.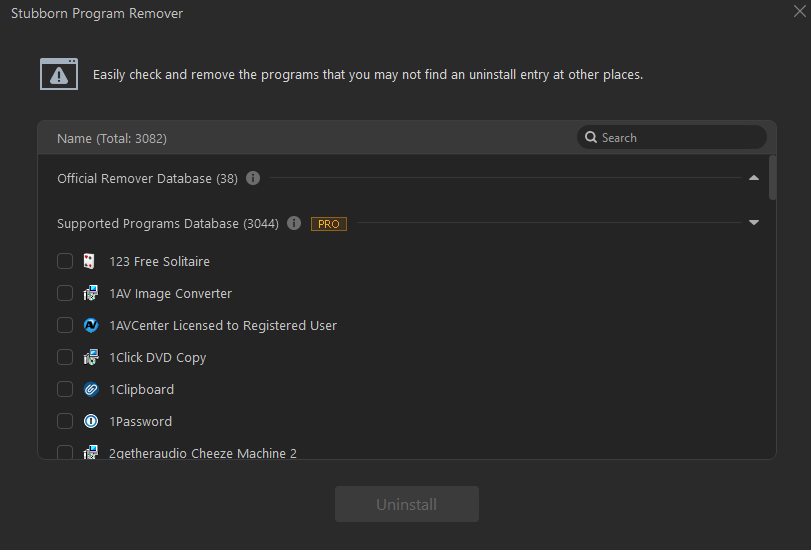 Toolbars & Plug-ins Removal
- All Toolbars & Plug-ins
IObit Uninstaller automatically detects toolbars and plug-ins of main-stream browsers and classifies them according to user ratings. Remove unwanted plug-ins to protect your browser.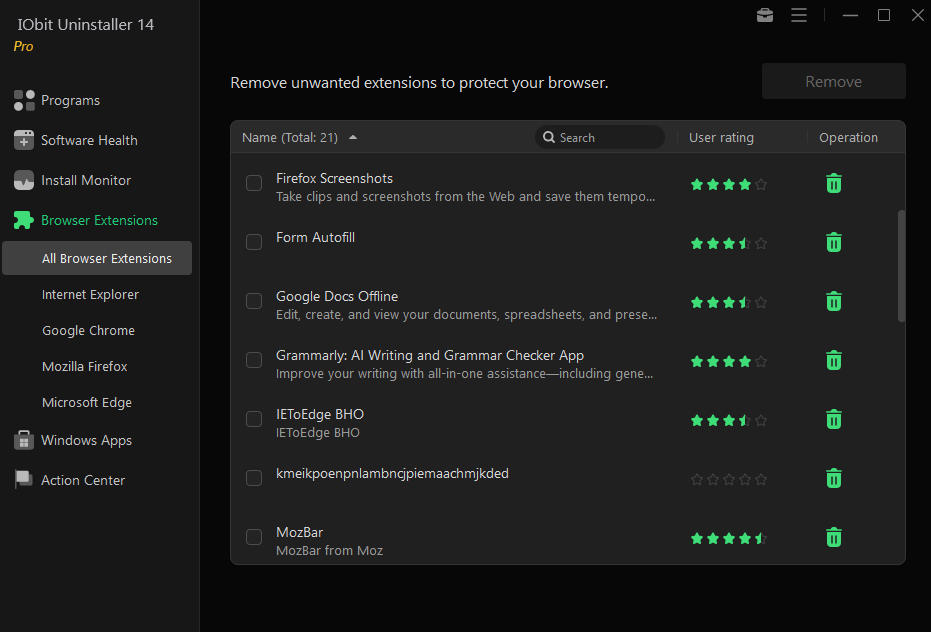 Trusted Toolbars and Plug-ins
Toolbars and Plug-ins displayed here will not harm your computer. You can keep or remove them as per your need.

Rate - Rate the selected toolbar or plug-in. Your rating may be helpful for other IObit users when they have no idea of whether to remove a toolbar or plug-in. Your rating will take effect in 7 days.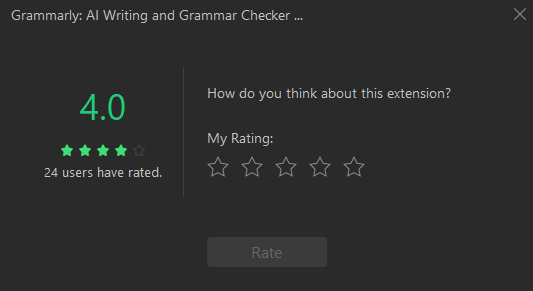 - Browsers Supported
IObit Uninstaller supports five browsers: Internet Explorer, Google Chrome, Mozilla Firefox, Opera, and Microsoft Edge.
Note: Microsoft Edge is supported on Windows 10 only.
By clicking Restore Google Chrome Default Settings, it will restore your Google browser homepage and default search engine to its default settings. Please click OK to complete this operation. The same operation goes for Internet Explorer, Mozilla Firefox, Opera, and Microsoft Edge.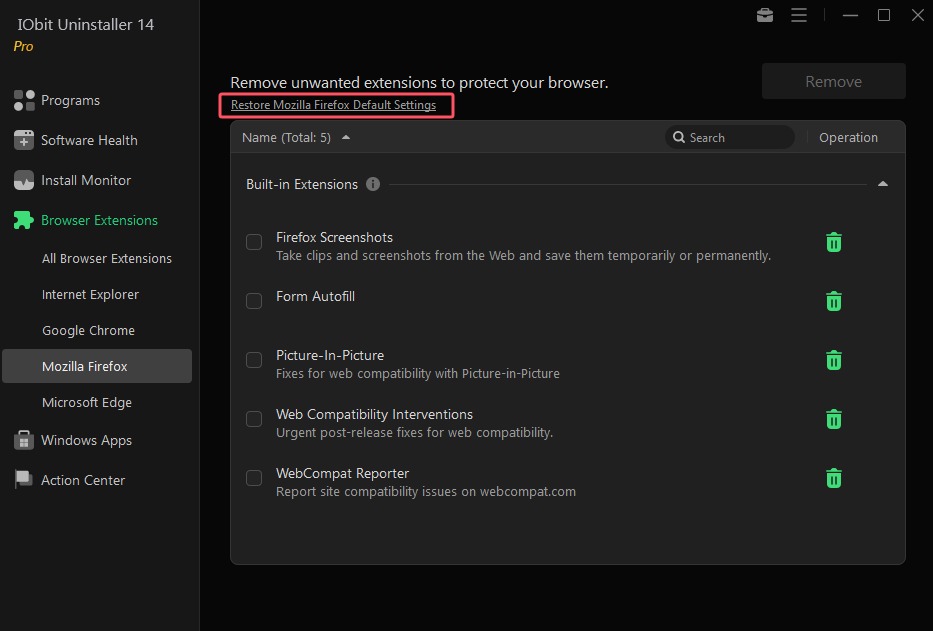 Windows Apps Removal
Here lists the Windows built-in apps and the apps downloaded from Windows store. These apps may take up system resource space so you can uninstall them as per your need to release more space.
Note: Windows Apps category only appears on Windows 8 and above.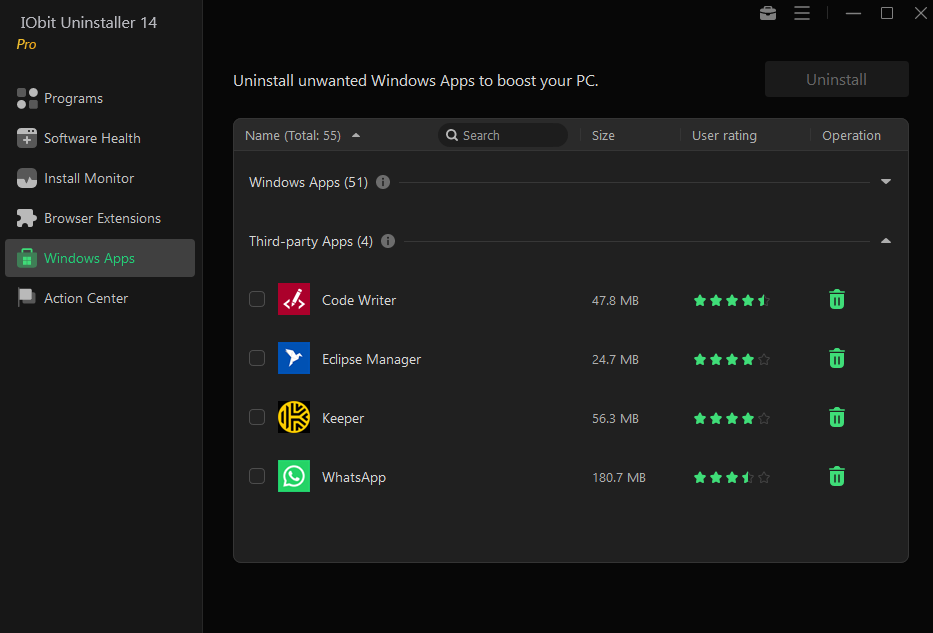 Software Updater
Software Updater helps you get your important programs up to date easily and efficiently.
Pro users can Update All outdated programs with just 1-click.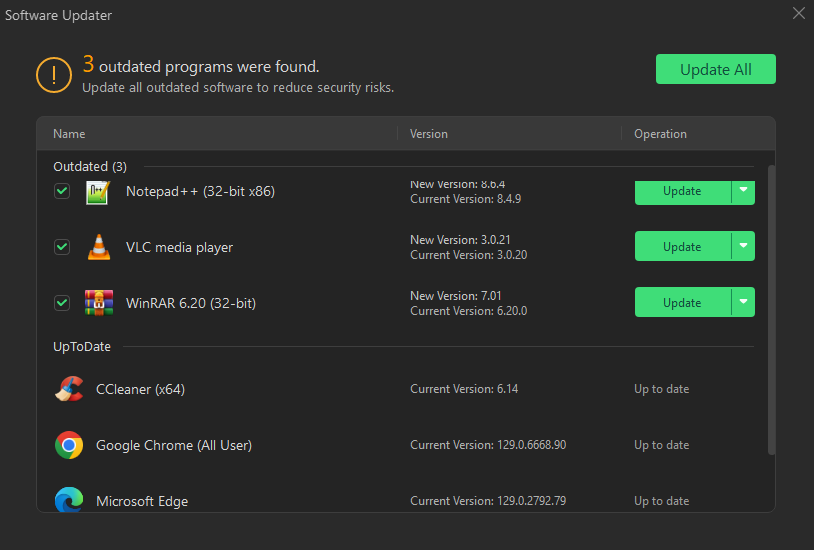 Action Center
- Security & Performance
Security & Performance recommends you other well-known IObit software or good programs from IObit Partners. Install them to get full security protection and ultimate performance.
Note: Click Hide at the middle right of the window if you do not want the recommended programs. You can click Show at the bottom right to display them again when you change your mind.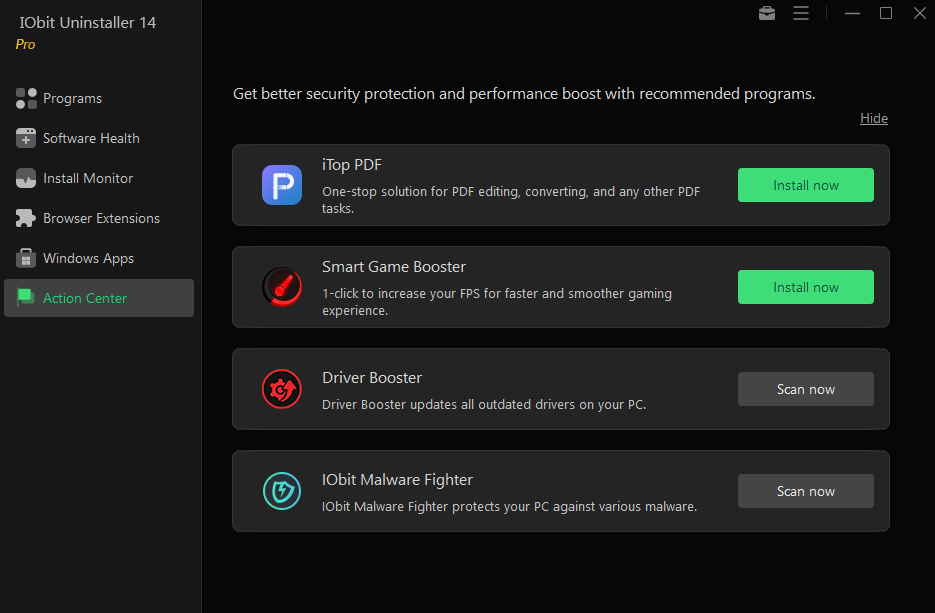 Tools
IObit Uninstaller contains 6 handy and powerful tools and utilities.
The 6 tools are Easy Uninstall, Force Uninstall, Cleanup Residual, Uninstall History, File Shredder, and Windows Updates.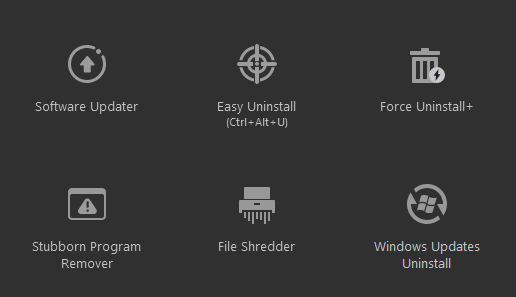 - Easy Uninstall
In IObit Uninstaller 8, we added the new feature Easy Uninstall, which allows you to quickly uninstall a program by dragging the Easy Uninstall icon to the program's opened window, desktop icon, or system tray icon.
Two methods to enable Easy Uninstall feature:
1. Open IObit Uninstaller > click Tools > Select Easy Uninstall
2. Use hotkey: Ctrl+Alt+U. You could change your hotkey in Settings.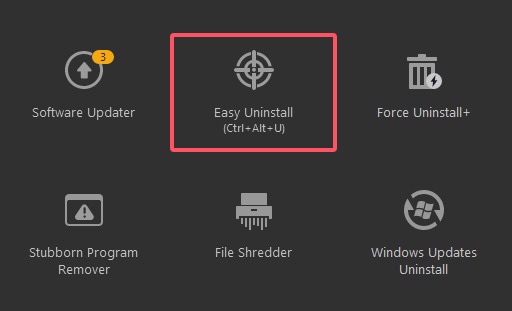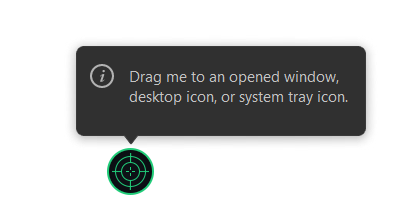 - Force Uninstall
Force Uninstall helps you uninstall a program which cannot be uninstalled in a routine way and cleans its residual files thoroughly. It can also help you remove a shortcut and its target file easily.
You can Browse... or drag and drop a file or folder to delete or uninstall its related program. Then click Uninstall to start the force uninstall process.
Tip: Another way to execute Force Uninstall is to drag and drop a file or folder into IObit Uninstaller main screen. Then the Force Uninstall window will pop up and you can click Uninstall to start the process.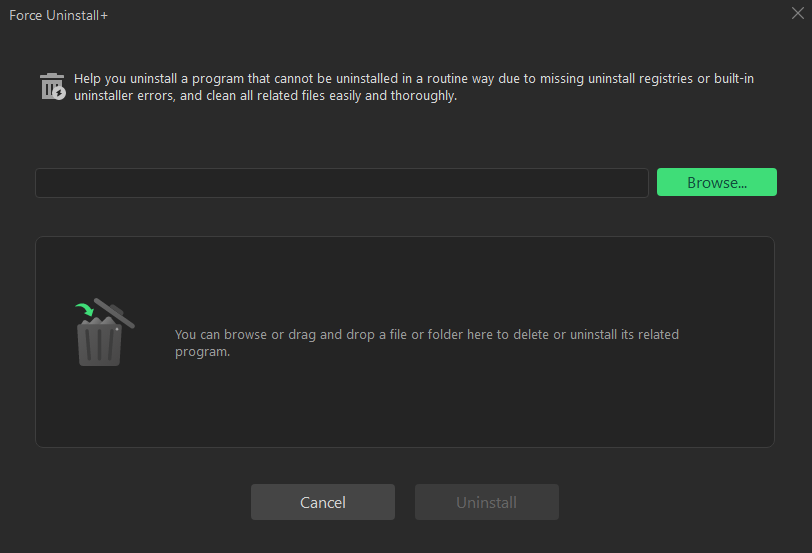 - Cleanup Residual
Cleanup Residual cleans invalid shortcuts, Windows patch cache, and downloaded files of mainstream browsers and download tools. Please select at least one to scan and clean it.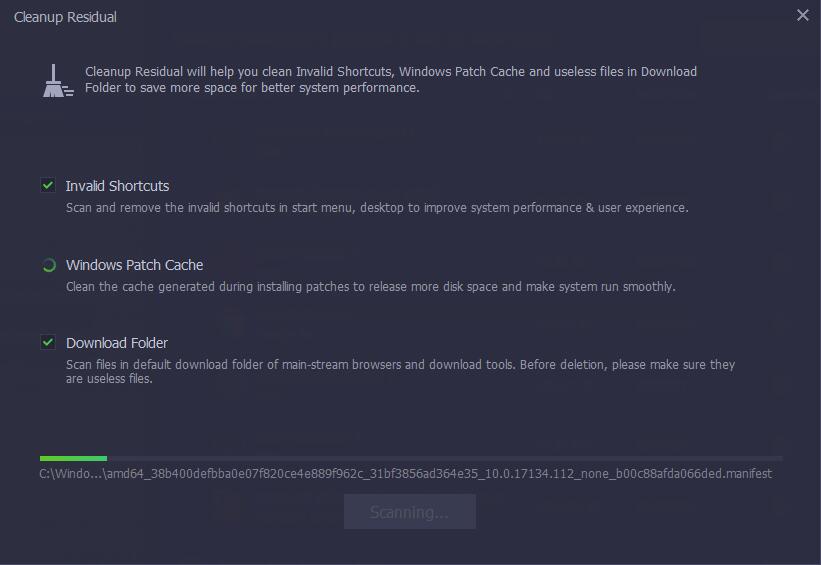 Right click the scan result to view the context menu, then you can click Open File Location to view its details.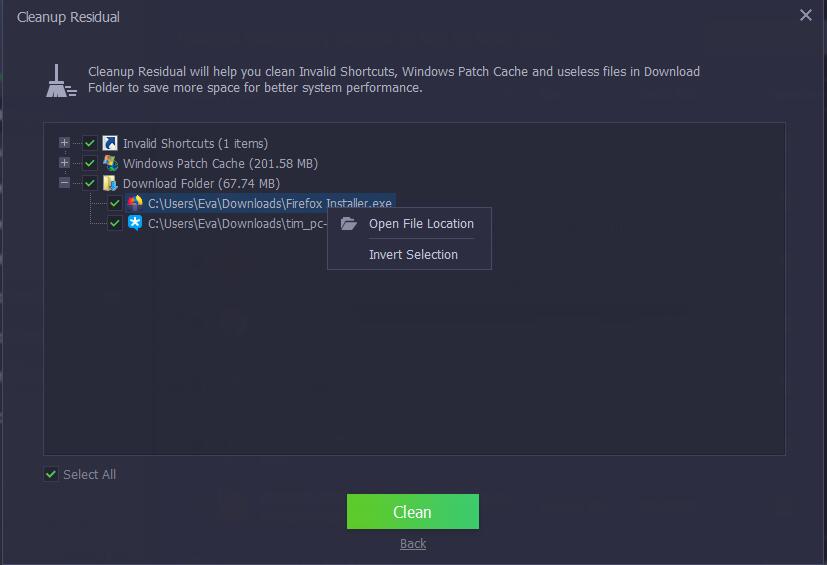 - Uninstall History
Here displays uninstallation logs and state for you. If the state is Residual files left, you can click Scan to find and remove all leftovers.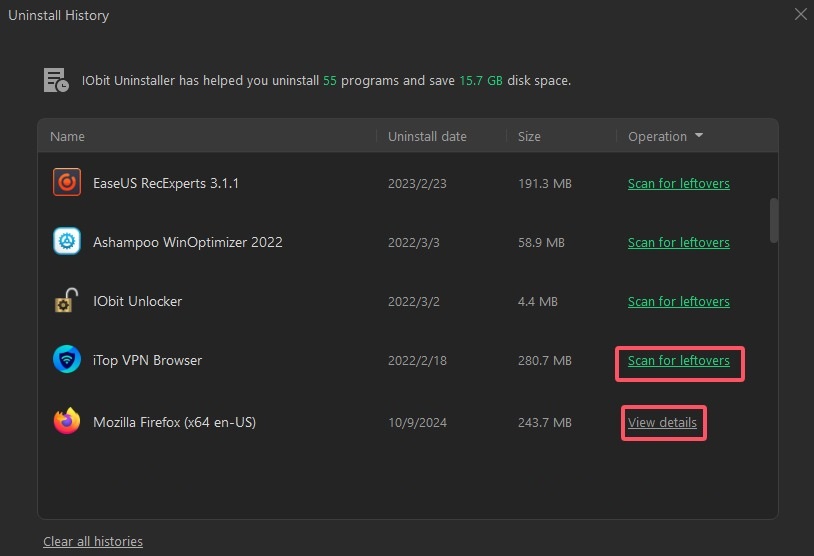 Click the Details link to check the details of the history.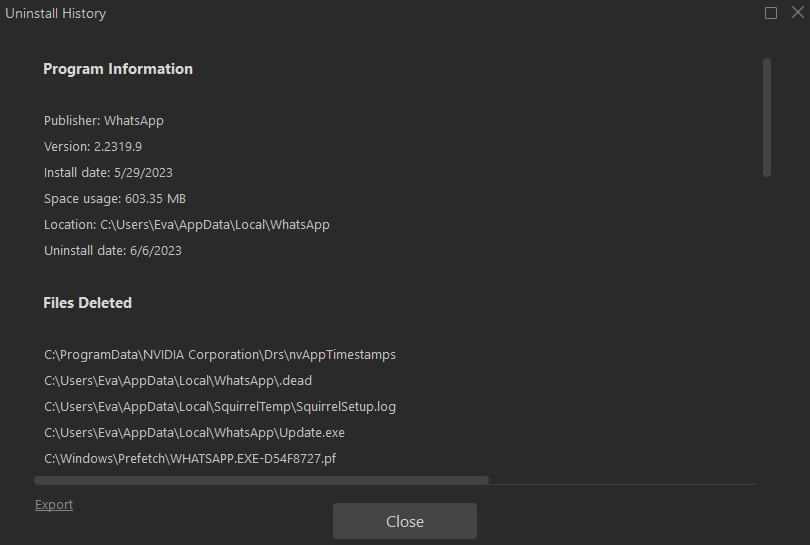 - File Shredder
Deleted files can be recovered even after disk formatted. File Shredder helps you remove unwanted files safely and permanently.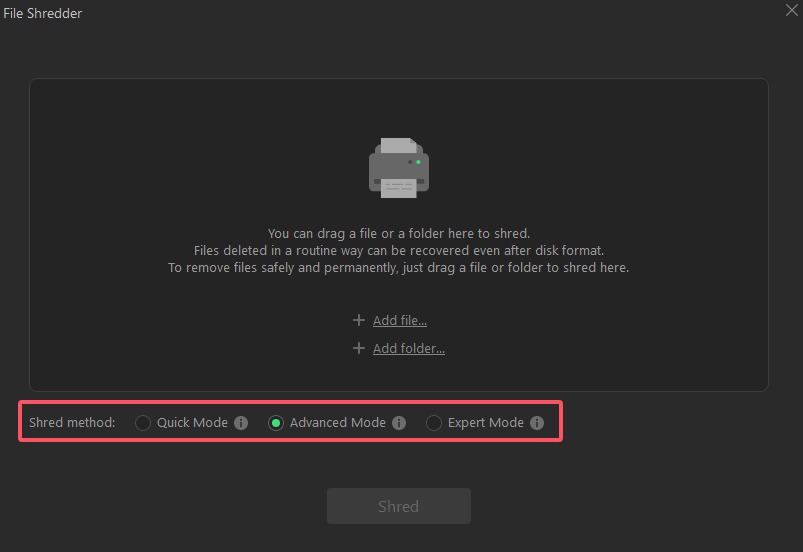 Click + Add file… or + Add folder… text link to add files or folders you want to shred. Then please click the Shred button to shred and delete them completely.
Besides, you can open the entries of the files or folders. Click the File Shredder button as shown in the picture below, the files or folders will be added to shred list.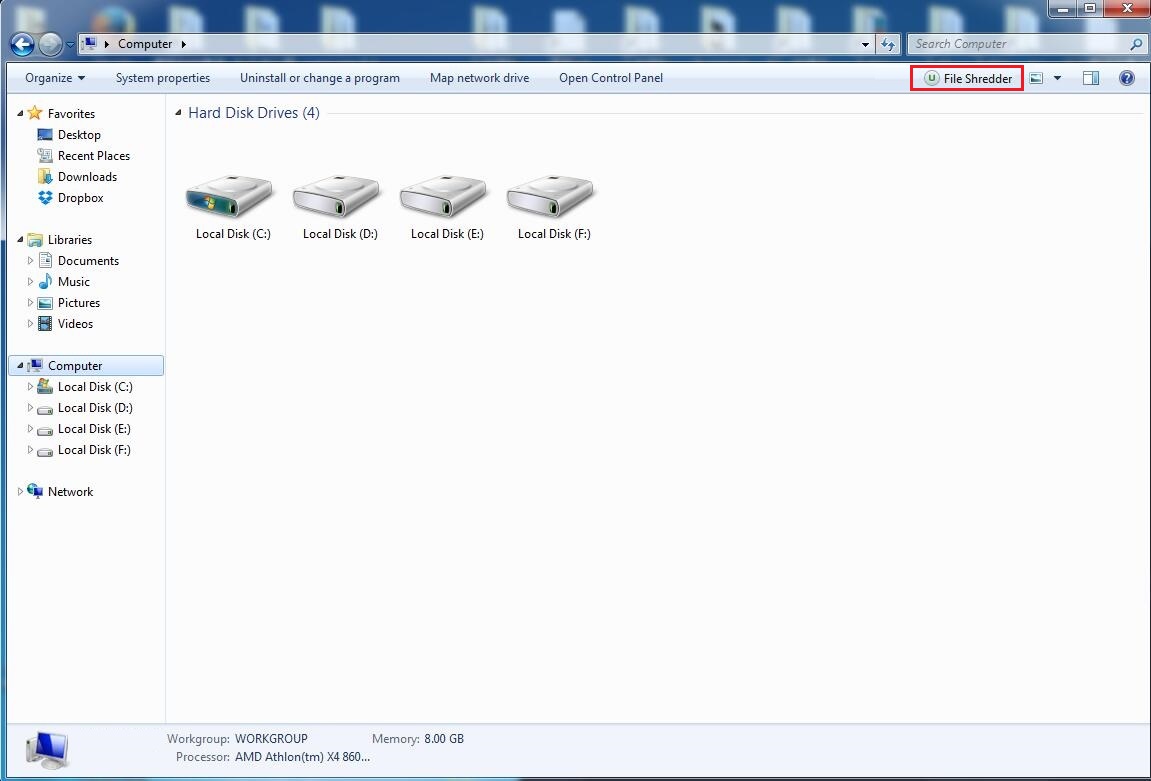 - Windows Updates
Here lists all the installed Windows Updates on your computer. You could uninstall the unwanted Windows Updates to free up more space.
Note: Uninstalling Windows update may cause system unstable, so please make sure it's unimportant before deletion.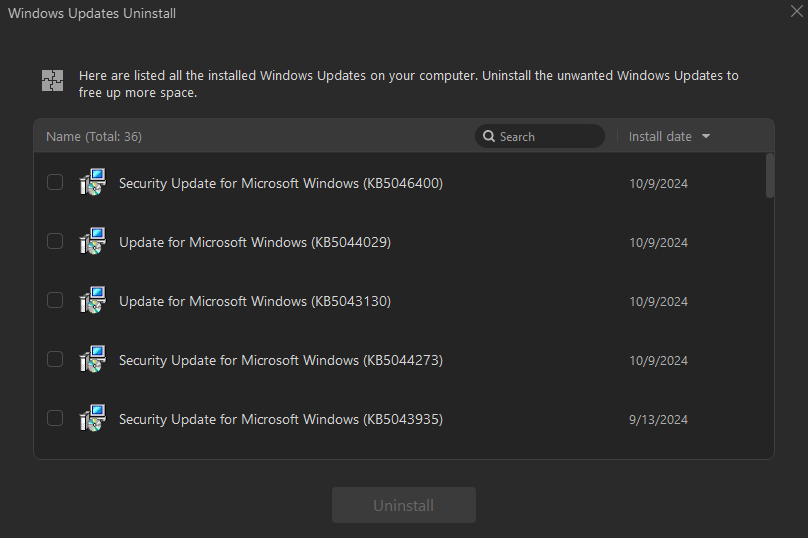 Configure UI
You can click Options icon at the top right of the main screen and then click Settings to open the Settings screen.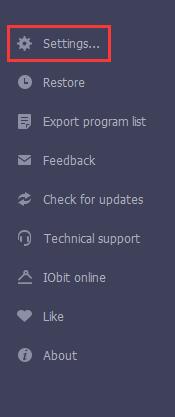 - Click the drop-down menu of Current Language to select your language manually.
- IObit Uninstaller 8 provides two skins: Classic and White . You can choose the one you like.
- Click the Font size you need to change it if the default font size doesn't suit you.
- You could change the Hotkey for Easy Uninstall here.
- If you are using the PRO edition, you can also set Update automatically to always enjoy the latest version automatically.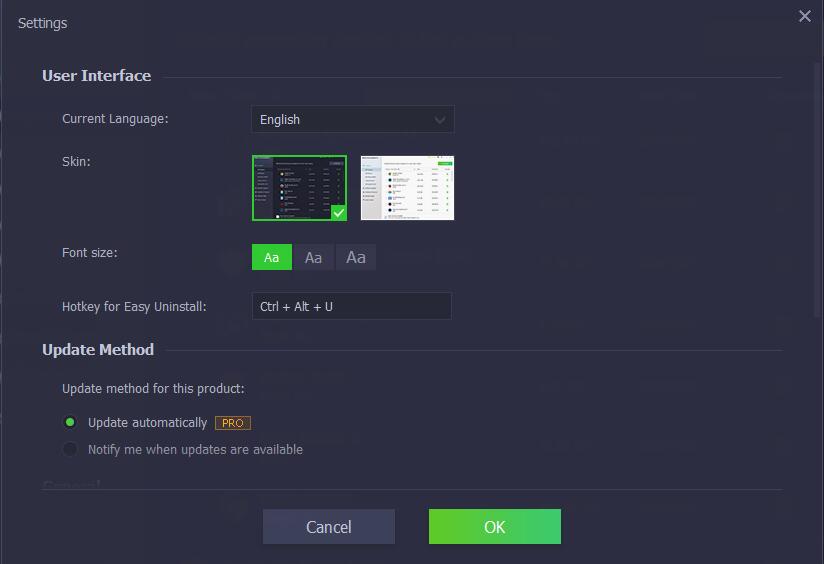 General & Notification Settings
Automatically remove residual files: All residual files found will be removed Automatically.
Delete leftover files to Recycle Bin: Files will be deleted to Recycle Bin instead of being permanently deleted from your computer so that you can recover them when needed.
Automatically delete leftovers of program uninstalled by other uninstaller: If a program is uninstalled by a third-party uninstaller or Windows uninstall, IObit uninstaller will automatically remove all its leftovers.
Add Shred File button to Explorer: With this feature, you can shred files from their location directly by clicking the File Shredder icon in Explorer. Note: Windows 8 and above system don't have this option.
Notify me when bundleware installed: Once there are any bundleware installed but the Uninstaller is not open, you will get a notification.
Notify me when malicious plug-ins installed: Once there is any malicious plug-in installed on your computer, you will get a notification to remove it.
Notify me when other uninstaller's uninstall operation detected: After receiving this notification, you can use the Powerful Scan feature of IObit Uninstaller to find and remove the program leftovers.
Notify me when software updates are available: You will get notifications when there are available software updates.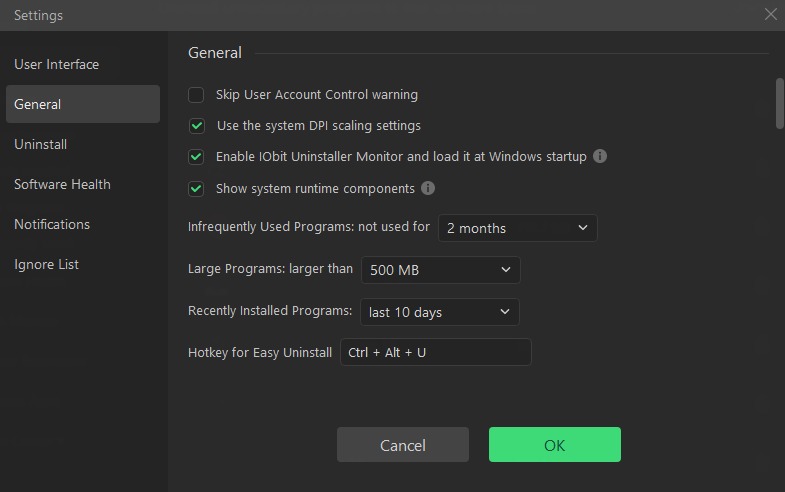 Technical Support
Every feedback from you is valued. To ensure you can reach us in time, we provide several feedback channels:
FAQs
It's recommended to read our FAQs before looking in the other sections for help. Because sometimes, the questions have already been answered before you ask them!
IObit Forums
Post your questions and concerns to IObit Forums, and discuss them with many other experienced and enthusiastic users and our technical staff.
Online Feedback
If you can't find the answers on our FAQs page or IObit Forums, please don't hesitate to contact IObit Support Team here for support. We will reply to you ASAP.
Thank You
Thanks to all IObit Uninstaller users and beta testers who motive us to make this product and make it better and better.
Thanks to IObit Forum Administrators, Super Moderators, and Moderators who are selflessly dedicated to providing assistance to forum users timely.
Thanks to the following volunteer translators who greatly help improve IObit Uninstaller user experience and introduce it to more users worldwide:
Enis Özsaruhan, X-agon Co.Ltd, Roland LALIS, JaeHyung Lee, Андрей Кравцов, Miquel Costa, Alan, Ilija Komljenović, Hevesi János, Marius Kundrotas, Normunds Jakuss, Veikko Muurikainen, Marjan Mirai, Chris Verberne, Igor Ruckert , Fernando Santos, Daniele Carraro, Lars Andersen, Jan Szotkowski, Thor Stange, JG Niesten, Cosmin Barna, Nguyên Hùng Lâm, dedko58, Przemysław Siekiera, Sarakael Fallen, Annelie Pernheden,George Vardakis, Nacho Lomidze, Elran.