About IObit Software Updater
IObit Software Updater is an easy-to-use light program, which helps you update all outdated programs and install all popular and must-have programs with just 1-click.
The 1-click update solution frees you from updating outdated programs one by one from different sources or websites, which can save you a lot of time and work. Meanwhile, IObit Software Updater enables you to check and update programs automatically at a scheduled time and shut down/reboot your computer automatically after the update is completed. Besides, IObit Software Updater provides a large and rapid-growing software database for featured must-have software in various categories: Browsers, Security, Social, Multimedia, Runtimes, and Utilities & Tools. You can easily and quickly install all selected software with 1-click without worrying about annoying ads and/or bundleware, even malware. It must be your best choice when you need to install many programs, especially when you get a new computer or after you reinstall, format, or upgrade your computer.
To sum up, IObit Software Updater is a convenient and practical utility for your computer no matter when you need to install software or update outdated software.
System Requirements
• Windows 10/8.1/8/7/Vista/XP
• 300 MB of free disk space
• 1024*768 screen resolution and above
Download & Installation
1) Click here to download the latest IObit Software Updater.
2) Double-click the downloaded iobit-software-updater-setup.exe to start the installation.
Uninstall
Windows 8 & 8.1:
Open Start > Click Control Panel > Click Programs and Features > Find IObit Software Updater and click Uninstall > Follow the on-screen prompts
Windows 10:
Open Start > Click Settings > Click System or Apps on the Settings menu > Select Programs & features or Apps & features from the left panel > Find IObit Software Updater and click Uninstall > Follow the on-screen prompts
For Windows 7 or earlier, please click here to get the uninstallation instructions.
Update
IObit Software Updater will notify you when updates are available by default. You can also manually click the

icon on the top left to check for updates. Or if you don't want to manually update it, please go to Settings to choose the update method as Update Automatically.
Activate
Note: A valid license code is required to activate the PRO version. You can click here to purchase one or click here to renew your expired license code. If you forgot your license code, retrieve it here.
To activate the PRO version, click the Enter Code link at the bottom right of IObit Software Updater main screen, enter your license code, and click Register Now. Or you can visit here for step-by-step activation instructions.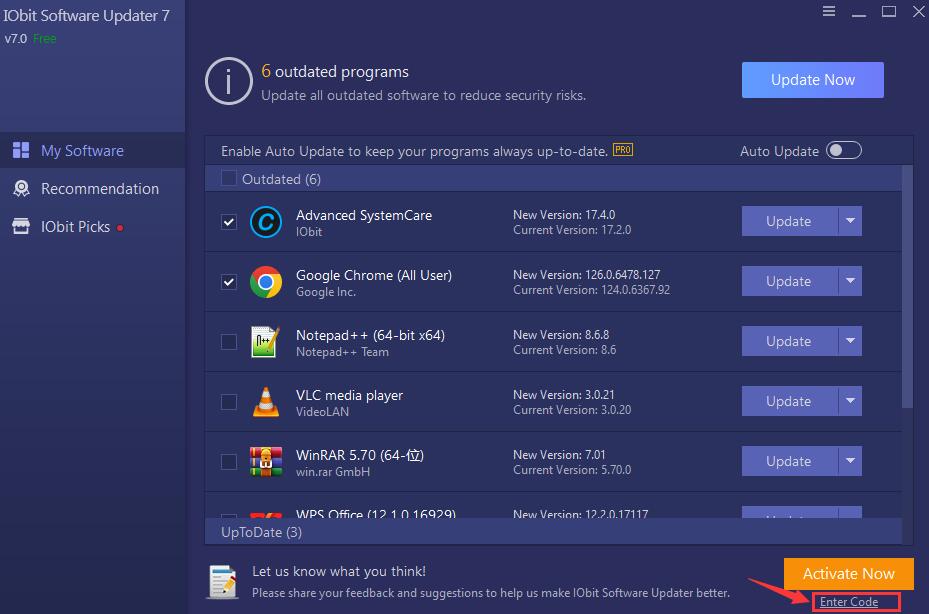 After upgrading to the PRO version, you can click the Manage License link at the bottom right of the screen to check the license status, refresh your license, or export your license.
My Software
Once after you launch IObit Software Updater, it will scan your installed programs in seconds and display them under either Outdated or UpToDate in My Software tab.
For outdated programs, you can either click the Update button to update them one by one, or tick the checkboxes of outdated programs and click the Update Now button to update them in bulk.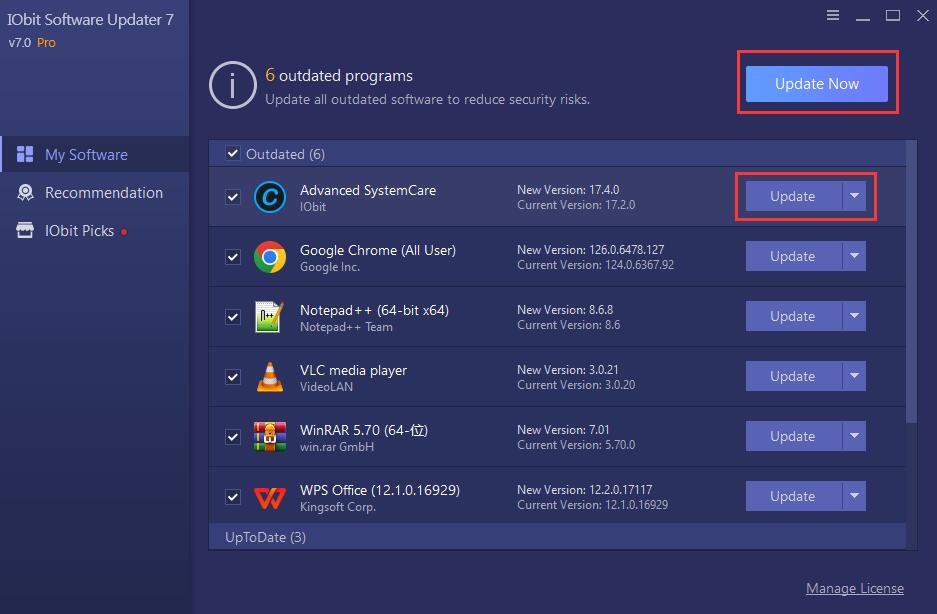 There are three stages for updating a program:
1. Download the update. With the breakpoint resume technology, you are allowed to stop the download anytime and resume it next time instead of starting over again, which saves time and bandwidth.
2. Create a restore point ('Automatically create a system restore point before installing a program' is enabled by default in Settings).
3. Install the downloaded update.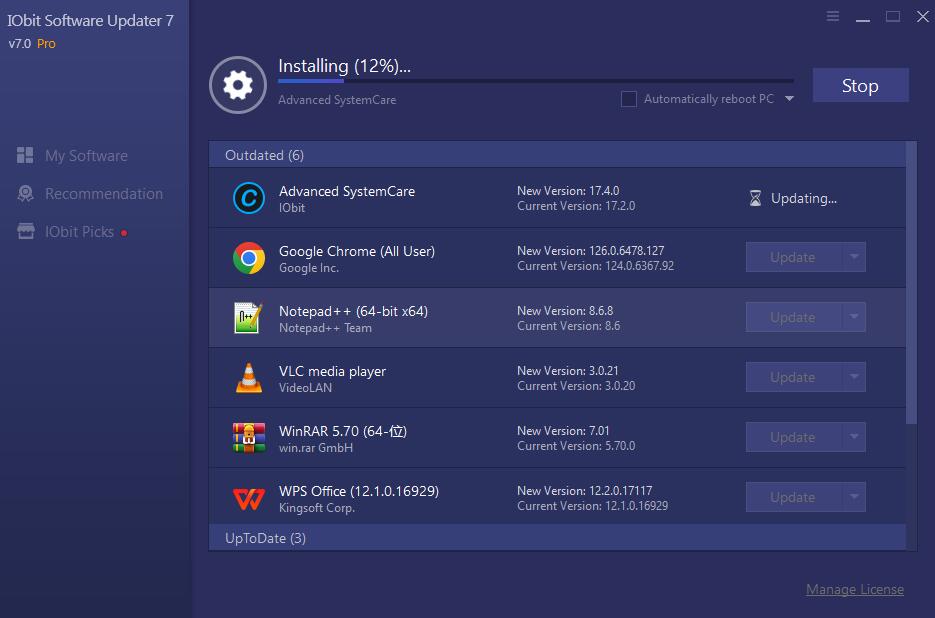 The time needed for an update depends on the program size and download speed. You can choose Automatically reboot PC or Automatically shut down PC, and click the

icon on the top right corner to minimize the whole window, then leave it and do what you want to do. After it's completed, you will get a countdown message to reboot PC or shut down PC accordingly.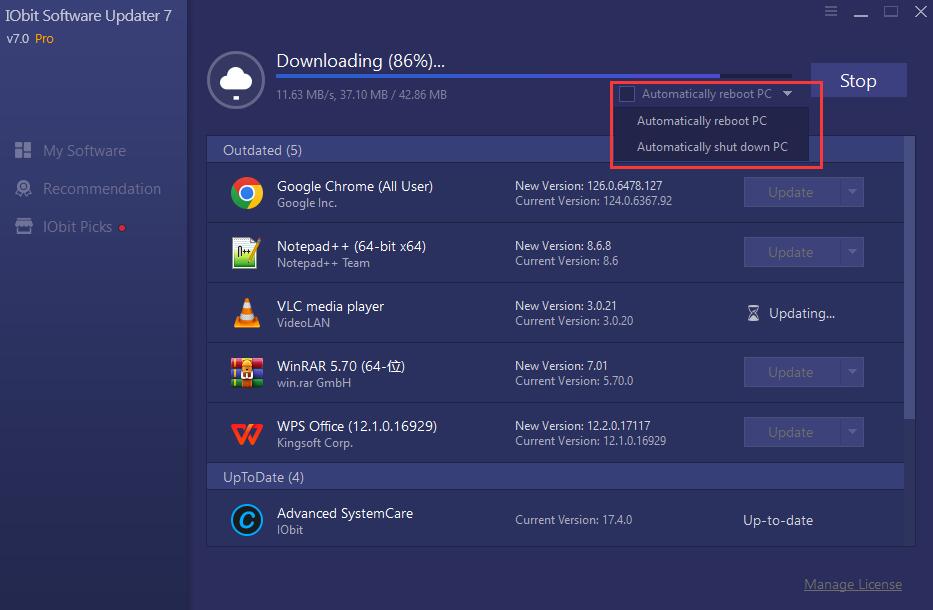 By clicking the

icon beside Update or right-clicking each program line, you can see another two options: Auto Update and Ignore.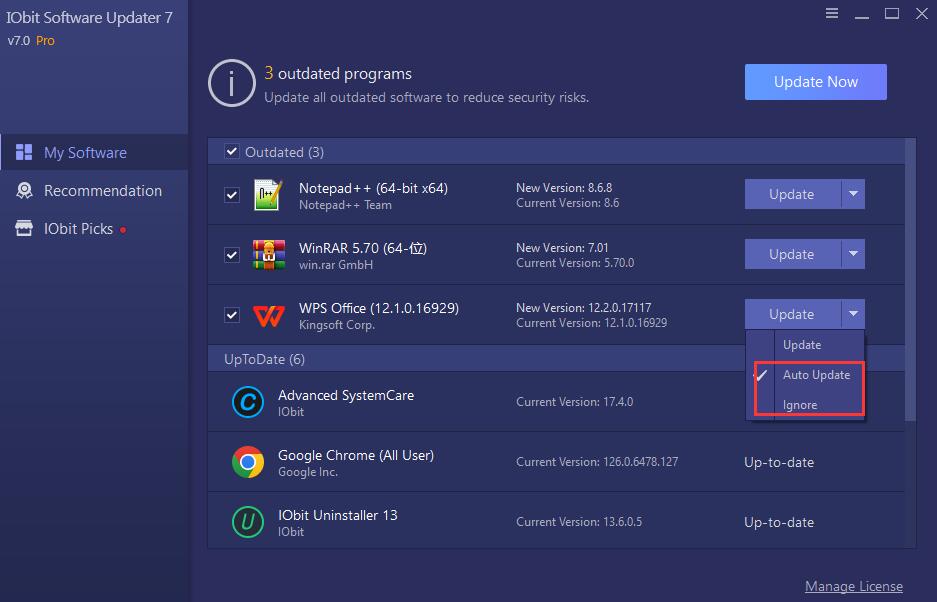 Auto Update: By clicking Auto Update, you can add this software to the Auto Update List manually. However, IObit Software Updater PRO version will automatically add all your installed programs to the Auto Update List when you first run it and the newly installed programs (if there is any) will be added to the Auto Update List automatically every time when you launch IObit Software Updater PRO. You can go to Settings to manage the Auto Update List and set a scheduled time to automatically update the programs in Auto Update List. So you can always enjoy the newest version of your programs with this auto update feature.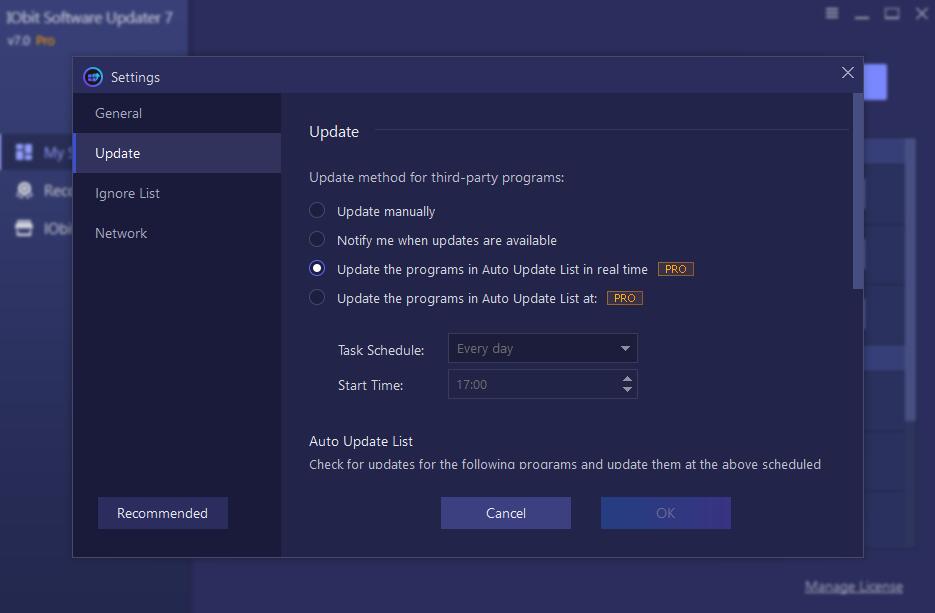 Ignore: By clicking Ignore, you can ignore all future updates including the current update of this software. All the ignored programs will be listed in Settings. So you can remove the programs from the list if you want to receive update notifications again.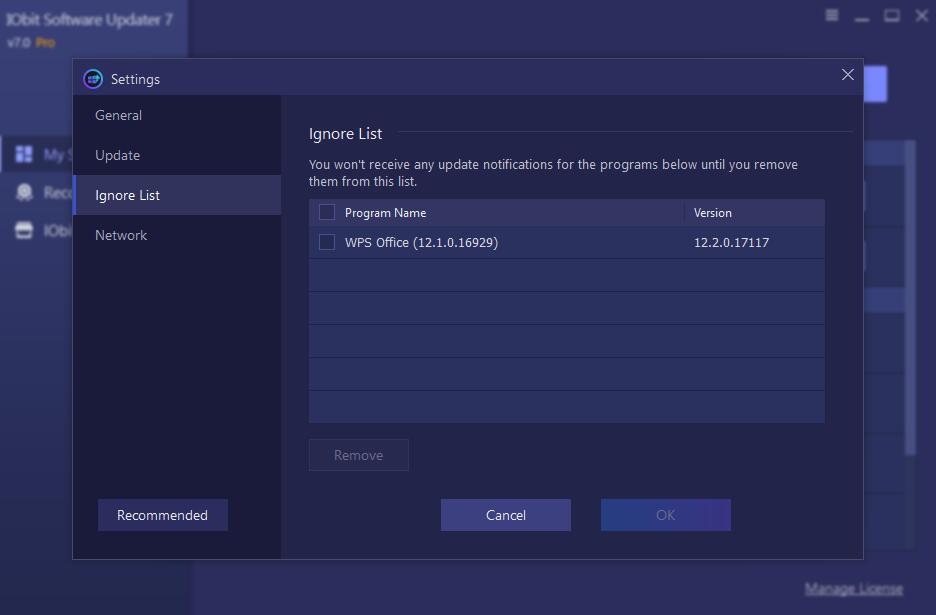 Recommendation
Besides providing updates for the installed programs, IObit Software Updater also provides an easy way to install the popular software in different categories: Browsers, Security, Social, Multimedia, Runtimes, and Utilities & Tools.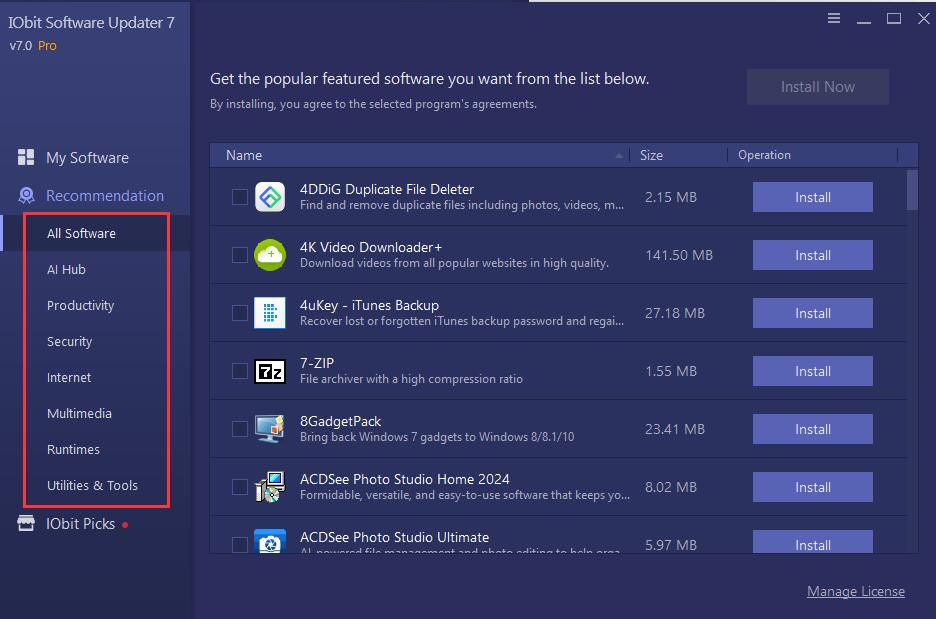 All the recommended featured programs are listed on All Software screen. Click the triangle icon in the name area to sort the list in ascending or descending alphabetical order, and find the wanted program quickly.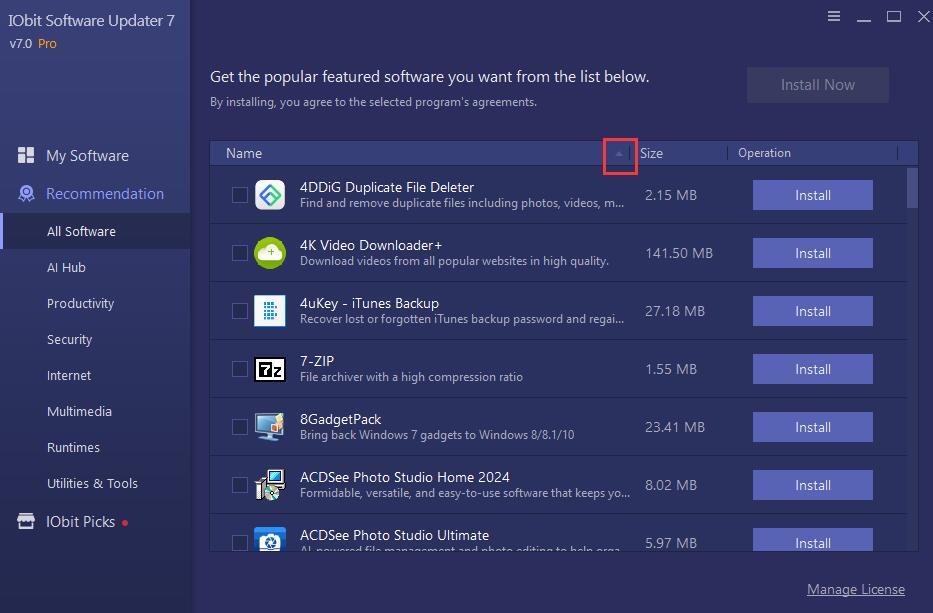 To get more information about one program you prefer to install, you can hover the mouse over the program name to see a short description of the program and links to its EULA/Privacy Policy.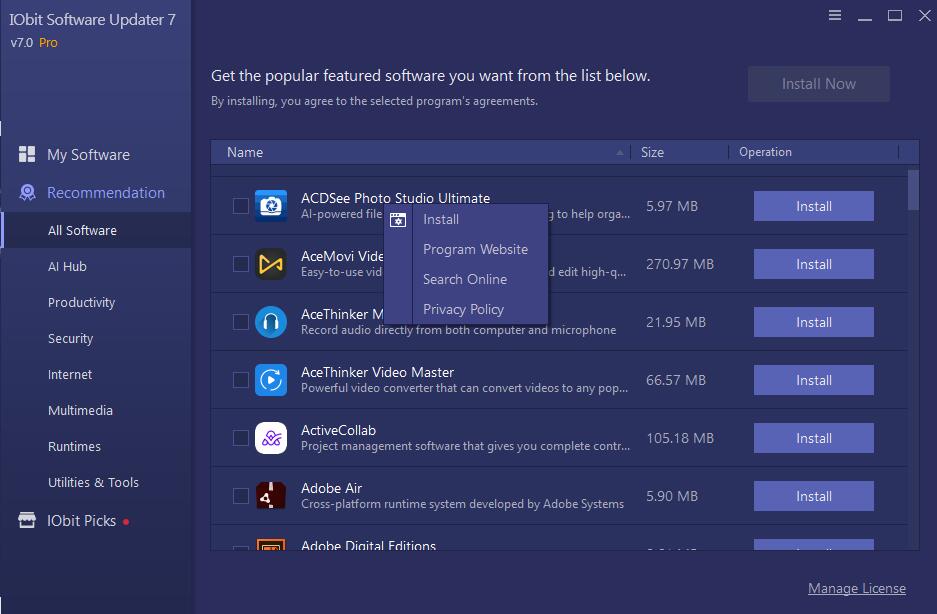 System Restore
To guarantee the security of the update, IObit Software Updater will create a system restore point before installing any program. You can check the restore points by clicking the Options > Restore in case you want to do a system restore.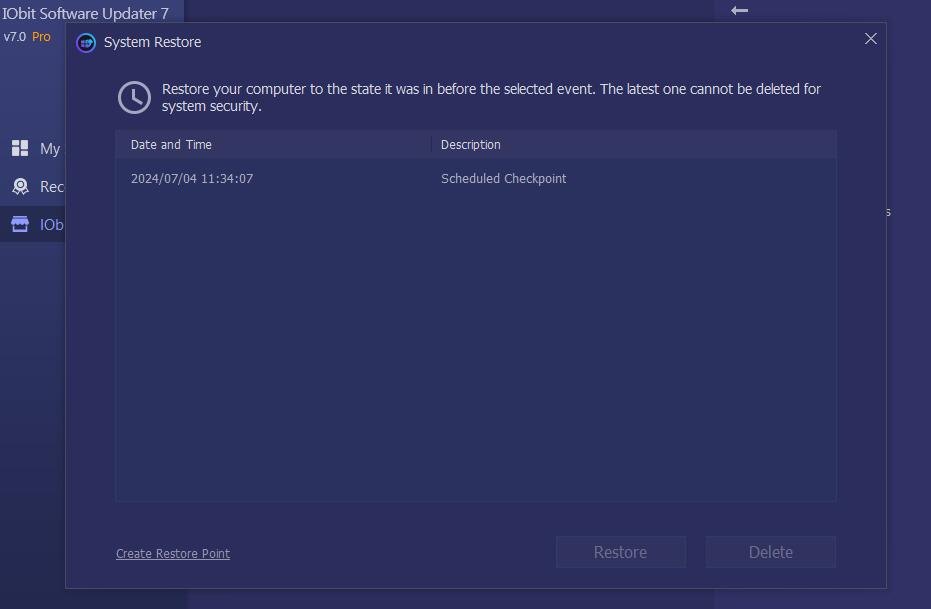 Technical Support
Every feedback from you is valued. To ensure you can reach us in time, we provide several feedback channels:
FAQs
It's recommended to read our FAQs before looking in the other sections for help. Because sometimes, the questions have already been answered before you ask them!
IObit Forums
Post your questions and concerns to IObit Forums, and discuss them with many other experienced and enthusiastic users and our technical staff.
Online Feedback
If you can't find the answers on our FAQs page or IObit Forums, please don't hesitate to contact us for email support. We will reply to you ASAP.
Thank You
Thanks to all IObit Software Updater users and beta testers who motive us to make this product and make it better and better.
Thanks to IObit Forum Administrators, Super Moderators, and Moderators who are selflessly dedicated to providing assistance to forum users timely.
Thanks to the following volunteer translators who greatly help improve IObit Software Updater user experience and introduce it to more users worldwide:
Enis Özsaruhan,العربيه: سهام عبد, Eunice, alan@tw, Kristijan Belina, Lukáš Spurný, Jørn Runge, Hans Niesten, Veikko Muurikainen,Chris Verberne, JeuMeu, Hannes Koppatz, Egon Jäkel, Karl-Heinz Grabatin, Stathis Doukas, Eli Ben David, Brechler Zsolt, Claudio Birello, X-agon Co. Ltd., JaeHyung Lee, Markflynn, Thor Stange, Łukasz Krzykawski, Igor Rückert, Fernando Santos, Cosmin Marian Barna, Max Smith, Joshua Green, Alexej, Ilija Komljenović, dedko58, Marjan Mirai, Roberto Paiva, Annelie Pernheden, Jan Ågren, Вадим Жушман, Tony Nguyễn