Welcome
Congratulations on the smart decision of choosing AMC Security!
AMC Security (Advanced Mobile Care) is an all-in-one Android security and performance optimization app for phones and tablets with Android 2.2 and above. With powerful Antivirus Engine, which has won The AV-TEST AWARD FOR BEST PROTECTION for years on Android operating system, AMC Security is designed to secure Mobiles against viruses, malware, spyware, malicious URLs, phishing sites, phone loss, etc. and even against unwanted call & SMS. It also offers better performance with features like Payment Guard, Security Guard, Battery Saver, Game Speeder, App Manager, Privacy Locker and Advisor.
System Requirements
Android 2.2 and Above
Main Screen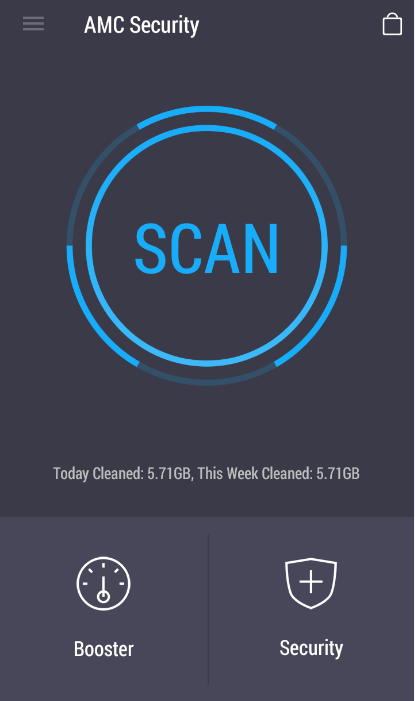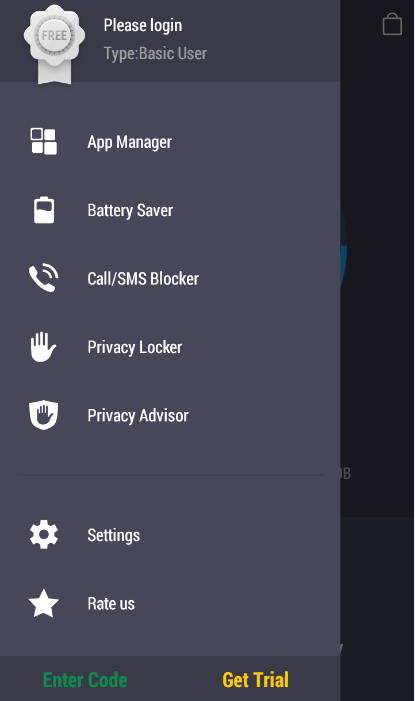 Settings :

See more features and set your own settings by tapping this icon at the top left corner.
Key Features
AMC Security helps ensure the safety and privacy of your personal data stored on your Android phones and tablets with the following features:
One Tap ScanTop ↑
Just with one tap, you can release memory by cleaning cache junk, running apps, privacy records, useless APK files, Junk files, big files and residual files based on your needs. You can also check the scan logs and see what AMC Security has done for you.
Pro edition users who select Scheduled Scan can set this app to do customization scan at a fixed time automatically.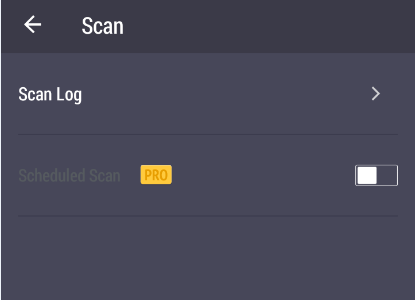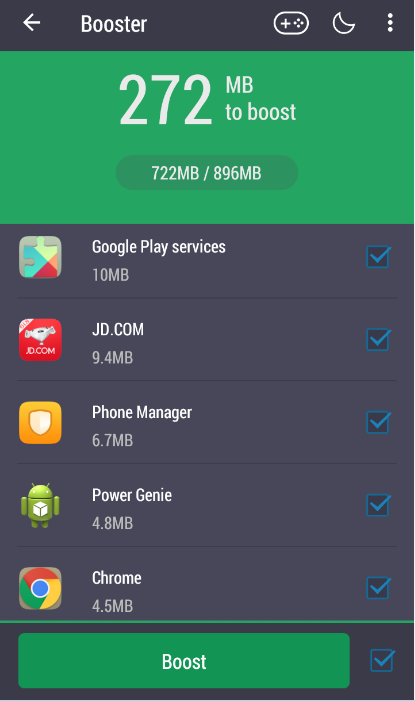 Quickly shut off memory intensive and battery hogging apps with one touch on Boost button.
Some tasks will be reloaded by Android system after killed by Boost. However it is still recommended that you kill tasks because RAM will be released during the boost process.
Hibernate:

Helps you put the autostarting apps into hibernation when you are not using them, to stop them from lagging your device and leeching the battery.
Game Speeder:

Improves your gaming speed and experience to get smoother game play without lagging.
Set your own mode by tapping

AMC Security adopts a powerful Antivirus Engine to scan apps and SD card to protect your device and privacy from viruses, malware and suspicious apps attacks.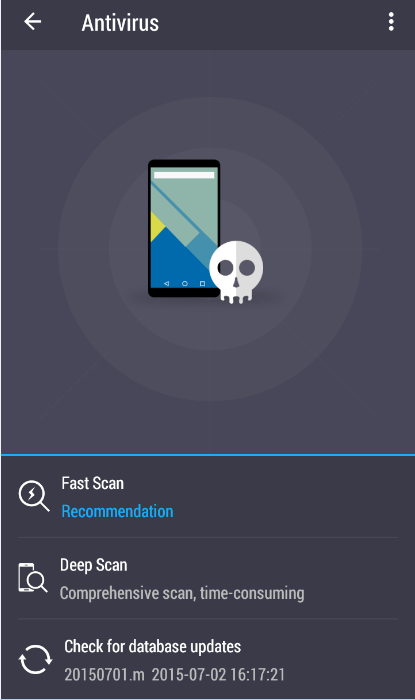 There are two modes (Fast Scan & Deep Scan) to let you choose, and you can tap Check for database updates to make your database always keeps the latest.
You can also turn on/off Install protection via tapping

on the top right.
Payment GuardTop ↑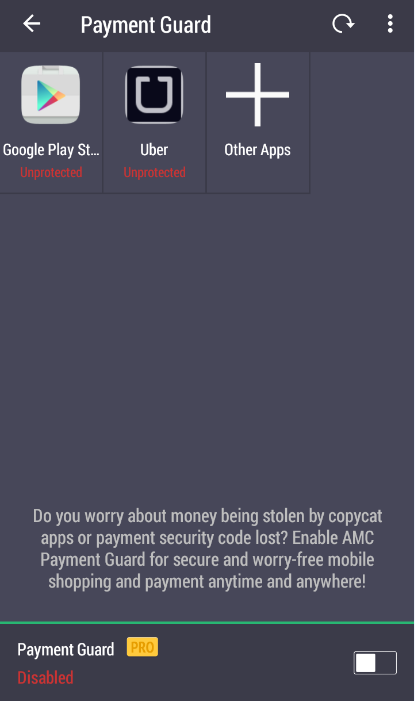 Payment Guard helps find out copycat apps and makes sure your mobile shopping and payment is safe so that you will not worry about money being stolen or losing payment security code.
Anti-PhishingTop ↑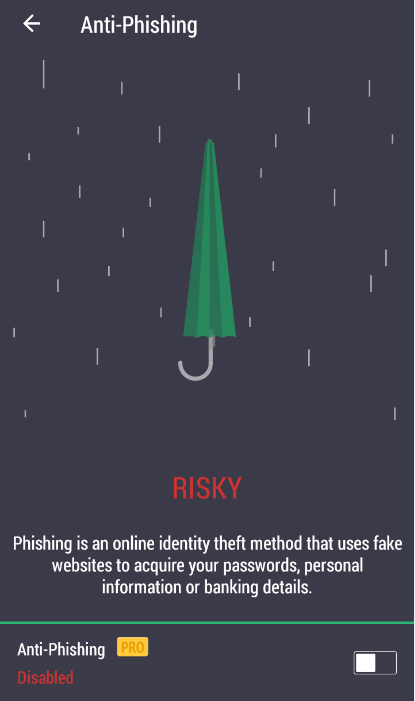 Phishing is an online identity theft method that uses fake websites to acquire your personal information, and it can also contain malware that may infect your device. IObit Cloud Services provides a plug-in which updates in real time so that whenever you access a site that detected as phishing, it will help you keep the tricks outside.
Surfing GuardTop ↑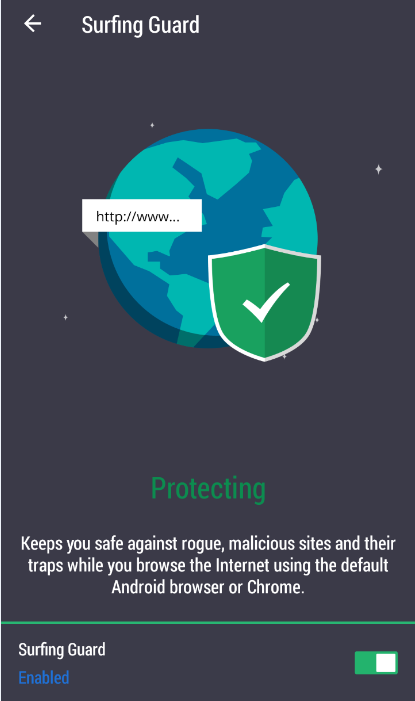 Surfing Guard blocks websites that contain malware, malicious URL and fraudulent content, and warns you instantly by IObit Cloud Services when heading to the danger.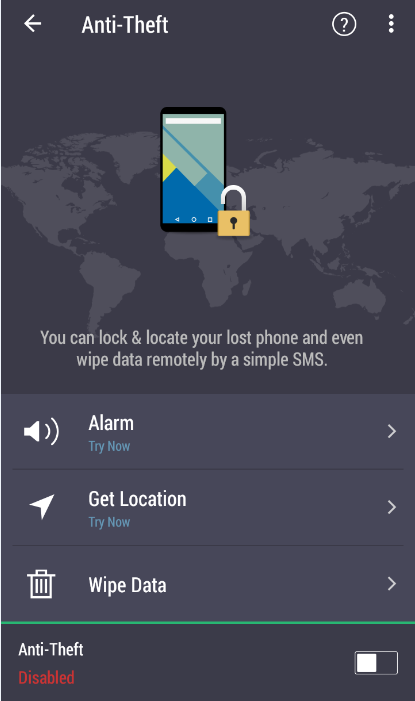 In the new version 5.0, Anti-Theft helps lock and alarm your lost device immediately by sending a message with 'alarm#' and password from any other device. You still can locate and wipe data remotely if the above way failed to find your device.
Security GuardTop ↑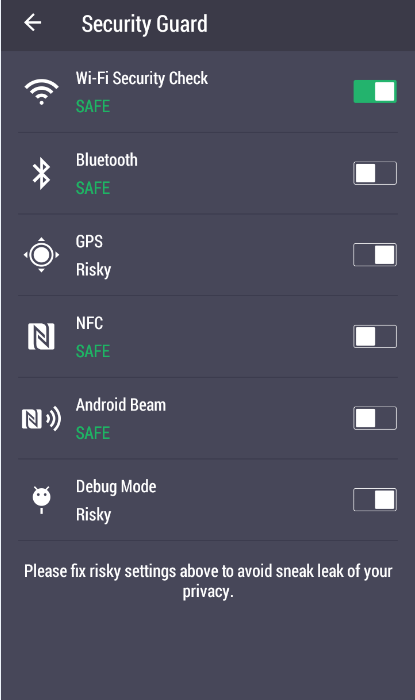 With Security Guard, you can check Wi-Fi's encryption way, ARP spoofing, and even MITM. Also it reviews other important device settings and gives insecure notice.
App ManagerTop ↑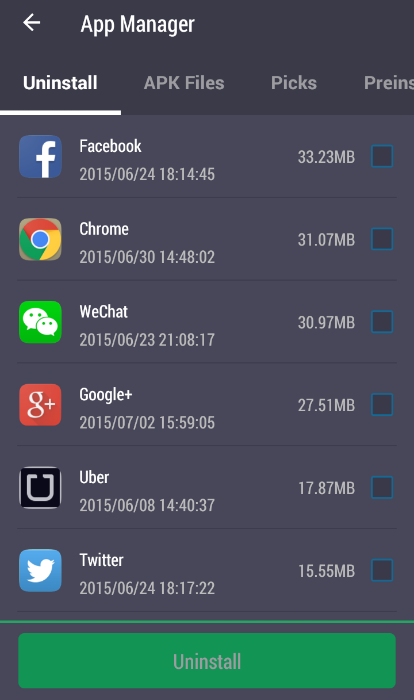 App Manager helps you find the installed and preinstalled APK files. You can batch delete APK files, move apps to SD card, and batch uninstall apps here.
Battery SaverTop ↑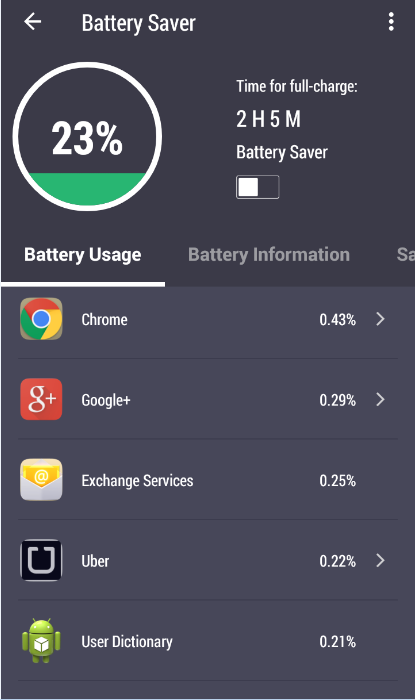 Set battery saving mode to save battery power as well as get the detailed battery usage.
Turn on Battery Saver to customize your own battery saver.
Tap Battery Usage and Battery Information to check the details of the battery.
You can also turn on/off Notification for fully charged and Remind for low battery via tapping

on the top right.
Call/SMS BlockerTop ↑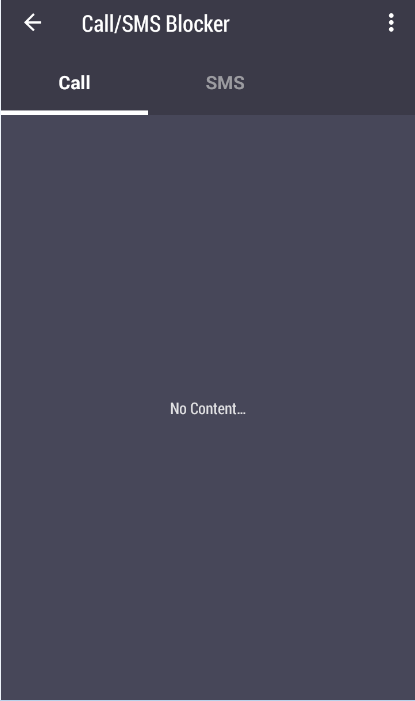 Add unwanted phone numbers into Block List by tapping plus icon to block.
There are four block modes for you to choose, and then you will not be disturbed by the unwanted calls and SMS. Tap

to find Block Mode and choose the mode you want.
Except Block Mode, more settings you can find by tapping

.
Privacy LockerTop ↑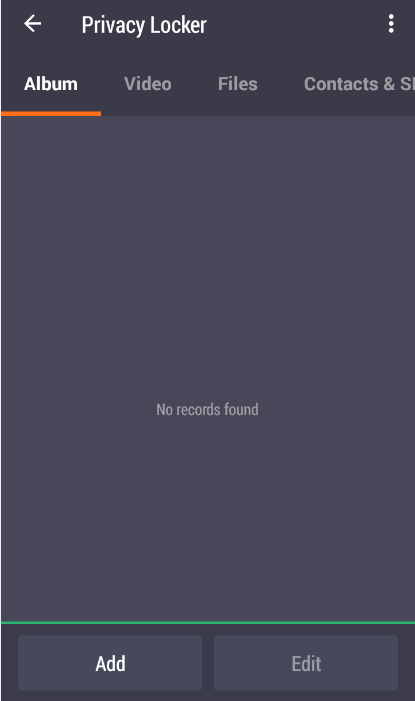 Hide, lock, and protect your private photos, videos, files, contacts and SMS with a password.
Please set a security question and bind an email for Privacy Locker, so that you can reset your password if you forgot it.
If you want to reset the security question/password or bind email, please tap

on the top right.
Privacy AdvisorTop ↑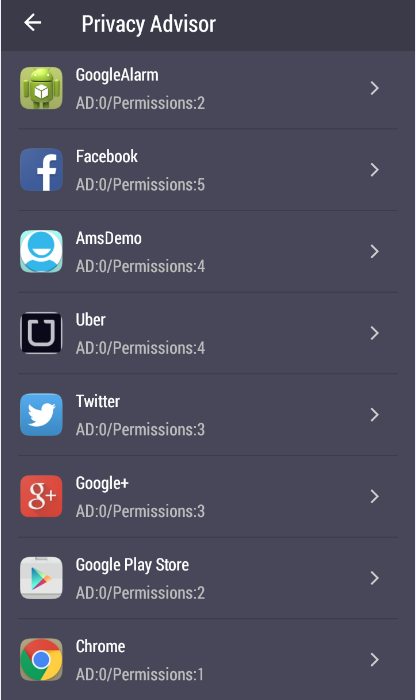 Privacy Advisor scans the AD apps and the access rights of the installed apps. It displays the applications which include AD, track your location, read your identity information, access your SMS and contacts, and make phone calls.
It helps you identify possible risks and find out unwanted apps.
Game SpeederTop ↑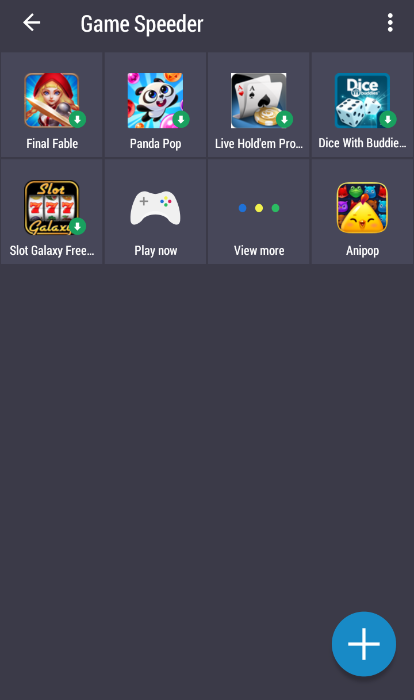 Launch games through Game Speeder to make games run smoothly without any lag or game-play disturbance.
Tap plus icon to manually add games into Game Speeder. Hold down the unwanted games to delete them from Game Speeder.
You can enable vibration or create a shortcut via tapping

.
Perform quick scan directly from your Android home screen. Quick check system information and set a battery saving mode. Now, you can also set the widgets for AMC Security, Game Speeder and Booster on your main screen.
Here are the steps to add the widgets:
1. Go to the home screen of your device by pressing Home button.
2. Tap an empty space until the menu appears. (Make sure that there is enough free space on your home screen for the new widget)
3. Tap the menu item labeled Widgets
4. Find the widget of AMC Security or Game Speeder or Booster, tap on it or drag it to add the widget to your home screen.
Note: The Widgets are only available when AMC Security is installed on Phone. They are not available if AMC Security is installed on SD card.
AMC Security Settings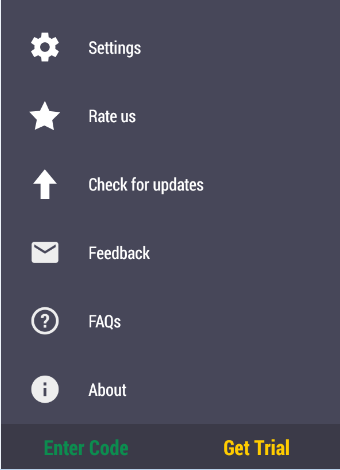 We have updated the settings page. You can enjoy more features with AMC Security.
Please login:
With an account, you can use your AMC Security Pro on another device for free in case you need to replace your current one, wipe data remotely, and get quick feedback and promo info from IObit.
Note: One AMC Security Pro account can be used on 3 devices at the same time since you update to version 5.0.
Settings:
General: Here are the basic settings of AMC Security.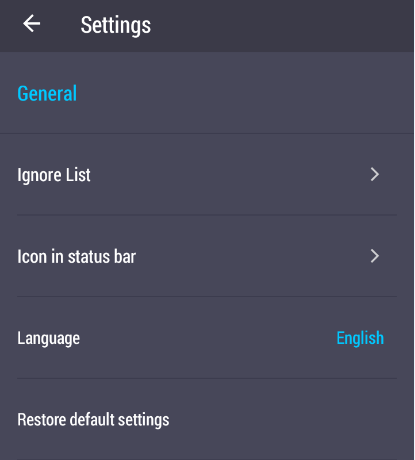 Ignore list: Add items into Ignore List by tapping the item from the scan result and Booster. Or add running apps manually by tapping the plus icon at the top right corner.
Icon in status bar: Here you can decide which icon to be displayed in the status bar: AMC Security Icon or Notification Icon.
Language: There are more than 30 languages. You can select your local language. If you would like to help us translate, please click here to contact us. Or email us at mobilesupport@iobit.com
Restore default settings: Restore all the settings to default value.
Function
Here are the settings for all features.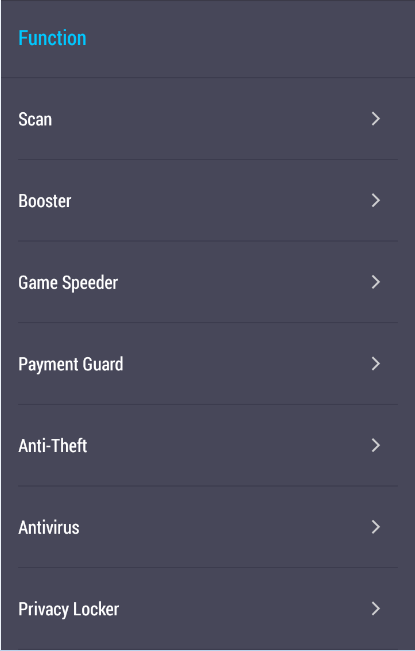 Scan: Set your preference for scan mode. You can also check the scan logs here.
Booster: Here you can set the frequency of Auto Boost: Never, Screen off, Every ten minutes, Every half hour, Every one hour, or Every four hours. Or enable/disable Show tip, create the shortcut and check Ignore list.
Game Speeder: Turn on/off the vibration when run a game from Game Speeder. You can also create the shortcut for Game Speeder on the main screen here.
Payment Guard: Here you can create a shortcut for Payment Guard, or update the payment apps database by tapping Check for database updates.
Anti-theft: Turn to Device Administrator page and protect your AMC Security from unintended uninstallation. Or reset password for Anti-Theft.
Antivirus: Turn on/off Install Protection.
Privacy Locker: Set or reset the security question and password of Privacy Locker. And, you can choose to bind your email. Binding email is used when you forgot your password for Privacy Locker.
Call /SMS Blocker: Set the block mode and block the unwanted calls/SMS. Add phone number into blacklist to block or block calls from non-contacts. Turn on/off Missed call popup and Notifications for blocked call and SMS.
Battery Saver: Turn on/off the Notification for fully charged and Remind for low battery.
Updates and Others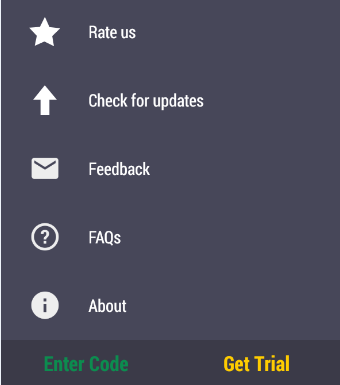 Rate us: You can rate us on the app store.
Check for updates: Tap "Check for updates" to check if your AMC Security is the latest version.
Feedback: If you encounter any problems or have any suggestions by using AMC Security, tap Feedback to get a reply with 24 hrs
FAQs: Here are the most frequently asked questions. You can refer here to find if there is any info you want to know about AMC Security.
Get Trial: We offer 7-day Free Trial for everyone. You can have a try before you make your final decision to buy.
Enter code: Enter your code here to get AMC Security Pro.
Support
If you encounter any questions or have any suggestions, please contact us through Online Supportor Online Support email us at mobilesupport@iobit.com.